Members and Guests meeting at Penleys were very pleased to welcome the Group Study Exchange Team from District 4730 in Brazil.
The four team members and the GSE Leader came from Curitiba the capital of the state of Parana in the Southern region. The group presentation gave an insight into this progressive state, its university in Curitiba, the growing economy and spectacular scenery including the Fos do Iguacu waterfall.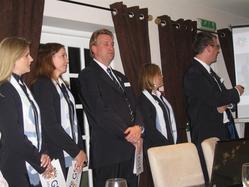 The students themselves come from varied backgrounds, the law, the judiciary, finance and journalism. While in Wensleydale a busy programme will show major aspects of Dales life in addition to exploring their own specialisms.
The first day in Wensleydale, they were taken to Richmond for a tour of the fully restored Georgian theatre and walk round the castle etc, then enjoyed a walk in Swaledale, followed by afternoon tea at Thiernswood Hall, the home of Club Foundation Chairman, Bob Hughes. They returned to their hosts just in time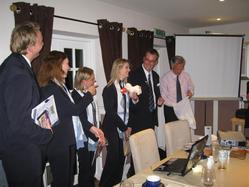 to change for their presentation following dinner with members and wives, along with District GSE organiser Andrew Wilson and his wife.
Team leader, Murillo Schmidt, exchanged bannerettes with Club President David Pointon. Then, Andrew presented all the team with gifts, including soft toys in the form of sheep!
On Tuesday, the team were taken on a tour of Wensleydale, including visits to Low Mill, Wensleydale Creamery, and Semerwater.
Wednesday