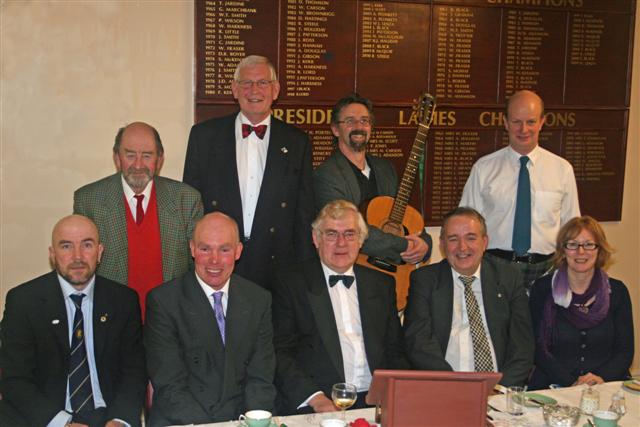 Gordon Neilson reports :-
The Rotary Club of Thornhill and District recently celebrated the birth of Scotland's national bard at a supper held in Thornhill's Bowling Club. The audience of over eighty Rotarians and friends were treated to an excellent evening of 'sang and clatter' at the club's annual event. In his entertaining but informative toast to the Immortal Memory of Robert Burns, Dumfries personality John Glover explained how Burns' reflections as portrayed in his poetry had significant resonance in today's world. An excellent Toast to the Lassies was provided by New Galloway farmer Robert McTurk, with a sharp and witty reply delivered by local councillor Gill Dykes. As always the Haggis was expertly piped in by Willie Prentice, Stewart Park was in excellent form for his address to the Haggis and in his imaginative rendering of Tam 'O' Shanter, while musical entertainment was provided by Rotarian Brian Lord and musical duo Dave and Jean. Keeping things on track was in the most capable hands of Chairman Rotarian Andy McKay. President Ed Hunter offered the Vote of Thanks.
Picture shows (seated) Stewart Park, Robert McTurk, Chairman Andy MacKay, John Glover and Gill Dykes. Standing are Brian Lord, President Ed Hunter, musician Dave and piper Willie Prentice.