Our club committee works directly with Rotary clubs overseas, with Rotary-run charities and other carefully selected charities, to relieve suffering, improve health, wellbeing and education in disadvantaged communities worldwide.
This year we have three main projects which are all concerned with improving the lives of young people.
1. We are participating in a scheme to help children in Armenia. This is one of the poorest countries on the edge of Europe. Many children have to go without school and face a very uncertain future. We have direct contact with a young lad called Erik. Thanks to the scheme, Erik and other boys and girls are now enjoying school. We regularly hear from Erik, and our club members follow his activities with interest and hope for his future.
2. We are working with a Rotary club in South Africa, in the town of Hermanus. Our joint aim is to raise funds to enable previously disadvantaged young people who have now succeeded in their school work, to study further at university and enjoy worthwhile careers.
Our Rotary friends in Hermanus provide a wide range of help and service to the local community but there is always some time for fun too, like the soapbox races pictured here.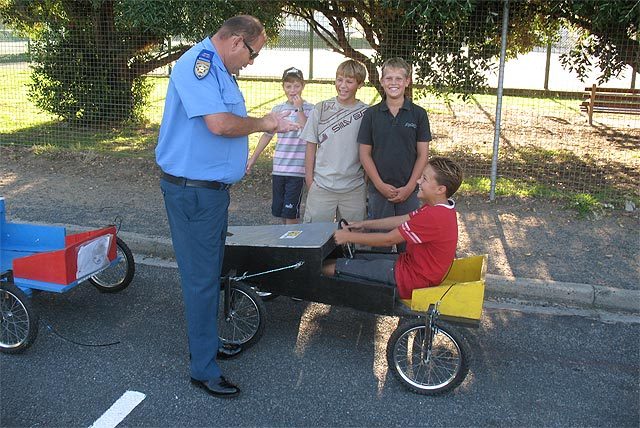 The friendly traffic cop gives some advice to the drivers in the Rotary Soapbox Derby
3. We are participating in the Rotary SHOEBOX scheme. We encourage children from local schools to fill a shoebox with useful items and small gifts for needy children in Eastern Europe. The gift of a shoebox that contains toys, toiletries, educational items or household goods is a drop of happiness to some of the people of Eastern Europe, where countless live in a world of poverty. For many, it will be the first present that they have ever received and it lets them know that somebody, somewhere cares.