International & Foundation
International
Sand Dams
Our club has provided significant support to the Sand Dams project a project which has been made a District Priority and our District Foundation Committee has agreed to match our donation of 1500 with a 100% Grant.
10 other Districts within Rotary GB&I have also agreed to support Sand Dams lead by our District and will collectively apply for a Rotary Global Grant to build multiple dams. Working together we keep the administrative costs down and to achieve a further Rotary Foundation matching Grant of 100% of the total. that we will use the same safeguards to ensure that the money is used properly and is fully accounted for and we hope Sand Dam building can begin in January. For more information and slide show, click on the image to right hand side).
Shelter Box
The International Committee supports Shelter Box, and to date has sent 33 boxes to
many disaster sites throughout the world.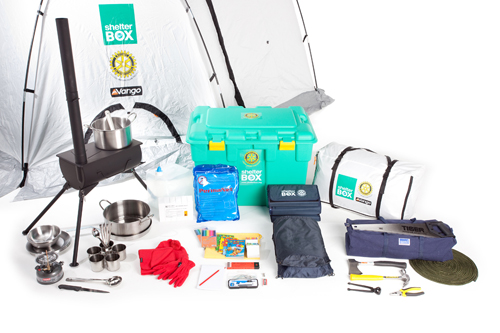 Shelter Box will normally contain a 10-person tent, plus a selection of other equipment to help an extended family survive for a minimum of six months. The exact contents will depend on local conditions and what is most needed but will generally include blankets, a multi-fuel stove, cooking equipment, water containers and purification tablets, a basic tool kit and a childrens pack. Each box is individually numbered and donors where and when their box has been sent via its unique number.
BOOKS FOR SOUTH AFRICAN SCHOOLS

From 2008 till 2014, the Club's International Committee sent boxes of
books to equip libraries in schools in the Western Cape. In conjunction
with the Rotary Club of Kirstenbosch, Cape Town, for distribution,
as of November 2013 we sent twelve pallets, each of 36 boxes.
Sea transportation was provided by SchoolAid, an educational charity based in
Buckinghamshire.

The books were sourced through the generosity of Primary and Secondary
schools, both LEA and private who allowed us to collect books no longer
required by the schools, and also some donated directly by students. We
sorted them into age groups and categories and once delivered, they form the
basis of many new libraries, where none previously existed, all freely
available to South African students. The activity is good for fellowship in
the Club.

We consider this to be an excellent example of a service project with
minimal costs.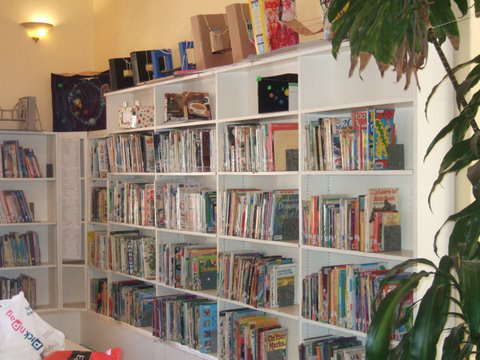 Nova Vista School Kirstenbosch: part of the school library. Many of the books were donated by Chichester Schools.
------------------------------------------------------------------------------------------------------
We also support the Tea Tree Trust, improving life in the tea growing areas of Sri Lanka:
http://www.tealeaftrust.com/index.htm
------------------------------------------------------------------------------------------------------
Mizumoni Library Project-Uk Based Charitable Project to build a library in Mivumoni, South East Kenya.
The Mivumoni Library Project was started in May 2009 by two 19 year old students Luke Weeks & Charlie Hammons from Chichester, who having returned from a three month trip to Mivumoni in South East Kenya, where they taught at both the local primary and secondary schools, set out to give something back to a community who had made them feel so welcome.
In Mivumoni, they encountered an extremely vibrant and intelligent youth population, full of unrealised potential. Subsistance farming families routinely make huge sacrifices to send their children to school, but, unfortunately, textbooks are prohibitively expensive. So much so that during their time teaching at the schools, they we did not encounter one child with a full set of textbooks and most had no textbooks at all.
After talking at length to many people in Mivumoni, including students, teachers, farmers and local politicians, they concluded the way to conquer this was to build and stock a library at Mivumoni Secondary School. Building a library would create an environment which we envisage not just being an area of study, giving the students access to the textbooks they so desperately need, but a public library including fiction and non fiction texts to serve the community at large. Open their return to England they set about raising 7000 through many fundraising events, concerts, fashion shows,etc in and around Chichester- even a sponsored hike to Switzerland. They gave a talk to Chichester Priory and other Rotary Clubs and Priory donated a total of 650
The library will cost approximately 7,000 to build and stock with several copies of every textbook on the school's curriculum. The library is going to be off the school grounds next the village church which will extend access to all the local community, including a stock of English and Swahili literature
Work started in September 2010 and the library now is in its final stages of completion Luke and Charlie returned at Easter this year (2011) to attend the opening ceremony of the library. They were looking forward to returning to the village where they were made to feel so welcome and see the completed library being used by students and the local people of Mivumoni.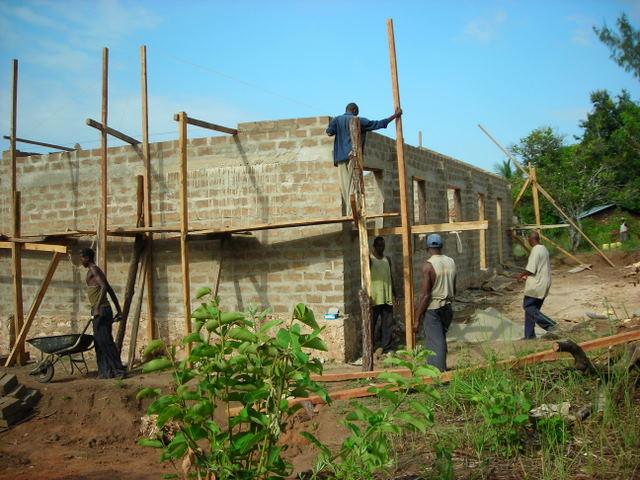 One of the best things to see is that local labour is being employed and all the materials were sourced in Kenya whilst watching the library grow and grow!
Their charity has Gift Aid Status and they still fundraising to make sure that maintenance of the library is not compromised; money for repairs will be necessary, as well as new books and a small ongoing fund for the provision of electricity in the library for lighting, enabling students to study after 6pm when the sun goes down in Kenya!
This very worthwhile project which, while small, will radically change the lives of many people for the better. For more information, please see the website - http://mivumonilibraryproject.webs.com. If you are interested in supporting their endeavours please send all donations addressed to Mivumoni Library Project, 34 Brandy Hole Lane, Chichester, West Sussex, PO19 5RY.
-------------------------------------------------------------------------------------------------------------
INTERNATIONAL PROJECT- WHEELCHAIRS TO SOUTH AFRICA

The Club has recently made a donation of 2800 to the Wheelchair Foundation UK which has been matched by a Rotary District Matching Grant which in turn has been matched by the Rotary Foundation in Evanston making a total of 9,3550 which will fund the purchase of 110 wheeelchairs and spares. These will be delivered to our partner club the Rotary Club of Arcadia, East London, District 9350 South Africa founded in 1961, one of the oldest Clubs in that region. The areas of Port Elizabeth,Lesotho, Queenstown Kimberley and Bloemfontein have been indentified as likely recipients. A small team from our Club (at their own expense ) were present at the handover ceremonies which took place in late October 2011. They were hosted mainly by Arcadia Club Rotarians.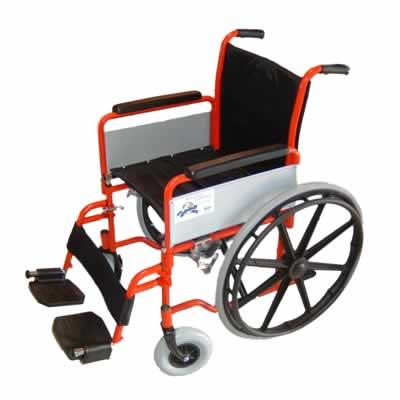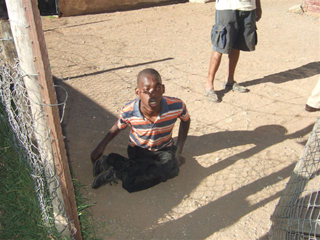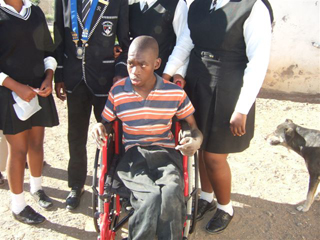 a few pics of a really genuine need of a wheelchair. When we arrived without warning the boy was lying in the dirt outside his home.The boy's father was
overcome with joy and gave an impassioned thank youin English for his son with tears rolling down his cheeks