House & Social
House & Social Committee organises events and speakers and other important functions.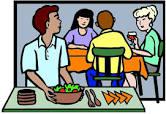 Show related pages
House & Social is responsible for general liaison with our meeting venue and also arranges the annual Charter Night dinner.
In addition the Committee organises social events during the year and fixes the Speaker programme (including ensuring new Members carry out their My Job talk). It is hoped to have a guest Speaker at every monthly evening meeting.