The Vocational and Community committee.
Role of Community and Vocational Committee
Identifying and being responsive to the needs of organisations and individuals within the community( particularly those at a perceived disadvantage) and working in partnership with other bodies where appropriate to address these needs
Participating in Rotary District or National campaigns where appropriate to the remit of the Committee eg in the areas of health, education or the environment
Broadening the vocational horizons of Club members through information visits or other activities
Promoting the image of Rotary within the community in fulfilling the Committee remit
involving all Club members wherever possible in projects and activities undertaken
Reporting back to Council, Club and District on plans and programmes


News
BRAIDS AND EDINBURGH HEADWAY
The Edinburgh Headway Group, founded in 1982, is a registered Scottish Charity dedicated to helping and supporting the traumatically head injured, and people who have suffered certain other traumatic forms of acquired brain injury, their families and carers. Headway House, at the Astley Ainslie Hospital, offers a range of therapeutic and rehabilitative activities that include fitness, art and music therapy, reflexoligy and social activities. The Rotary Club of Braids has a long association with Headway and each year provides a barge trip for their members and carers including food and entertainment. The Club has also provided wine and presents for raffles and Christmas parties and sensory equipment for therapeutic use. The Headway annual barbeque was held on July 3 Rotarians attended and took the opportunity to present a giant chess set to the members. The Club intend to provide four Nintendo devices in the near future.
In the photos, Rotarian Mike Munro and JVP Cuillin Scott are pictured with Chief Executive Michelle Keenan, Naim Zikry and the Chess set.
This year: 2017
This year, this committee has spread its support over more community projects. Latterly, the Club donated garden furniture to Milestone House, a voluntary not-for-profit care home for the elderly and owned by Waverley Care.
The photograph below shows some of the furniture being presented to them by Club President Colin Mackay and Community & Vocation Chair Keith Bailey.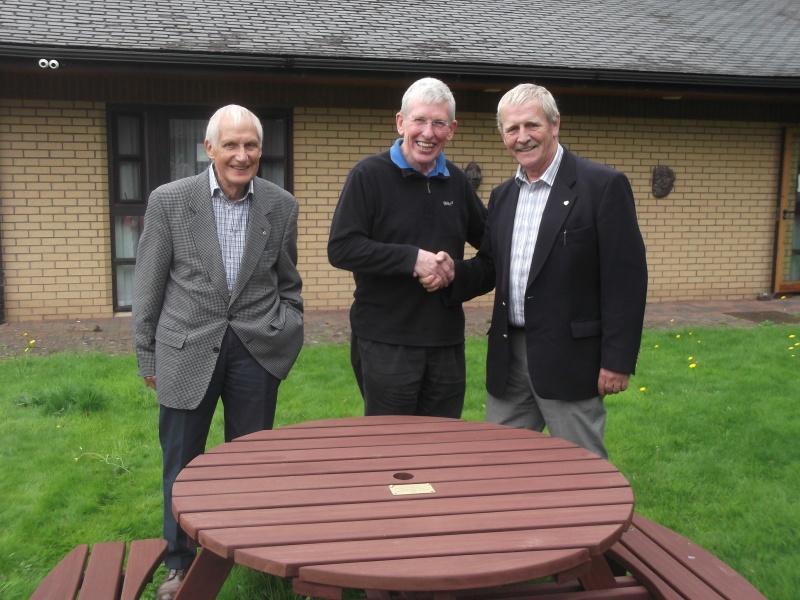 This year: 2016
Helping Headway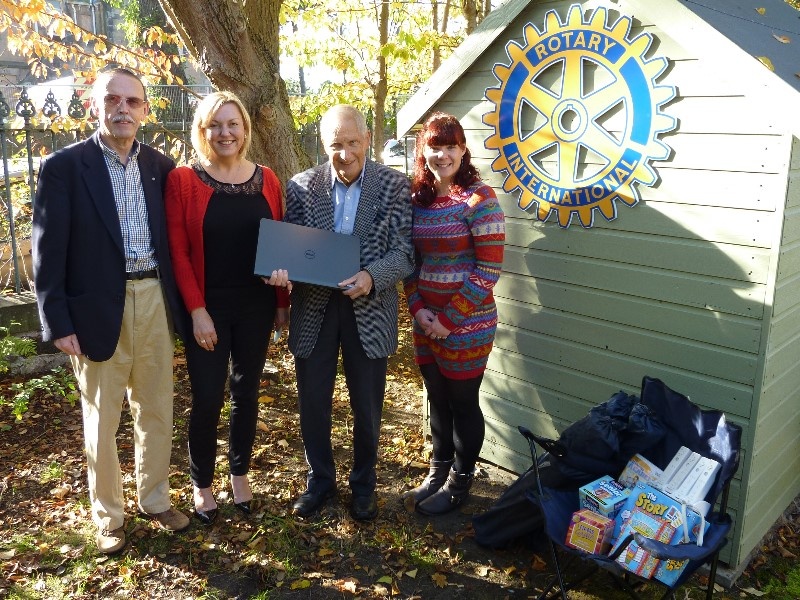 Keith Bailey, Convener of Community & Vocation, with Dermot Dick The Rotary Club of Braid Edinburgh presenting some much needed equipment to the Headway Group. The local based charity has been supported by Rotary Club of Braids Edinburgh for some time.
The picture shows Keith presenting a Dell laptop computer to Michelle Kennan, Chief Executive of Headway. Other equipment donated by Braids and beside Leigh Thornton, Rehabilitation Coordinator, are, a camping chair -one of four- with Wii Equipment and a variety of board games. The back drop is a much used Garden Shed which was renovated by Braids.
Next spring the Rotary Club of Braids will also sponsor and assist at the very popular annual Headway barge trip, along the Union Canal.
This year: 2014
See Hot off the Press for fantastic news from a project to instal a defibrillator at Gracemount Leisure Centre.
We have just made a huge donation of Dictionaries For Life to Oxgangs Primary School.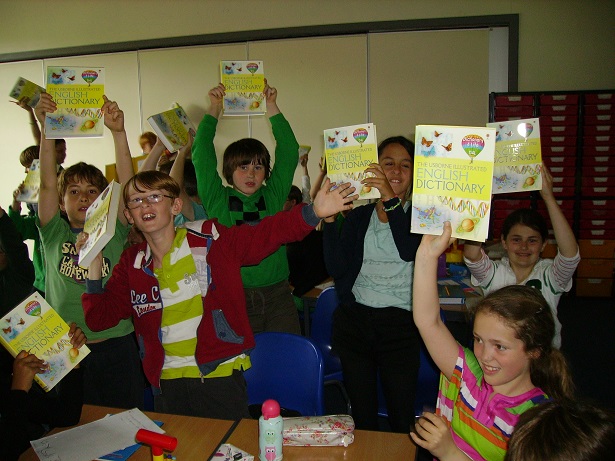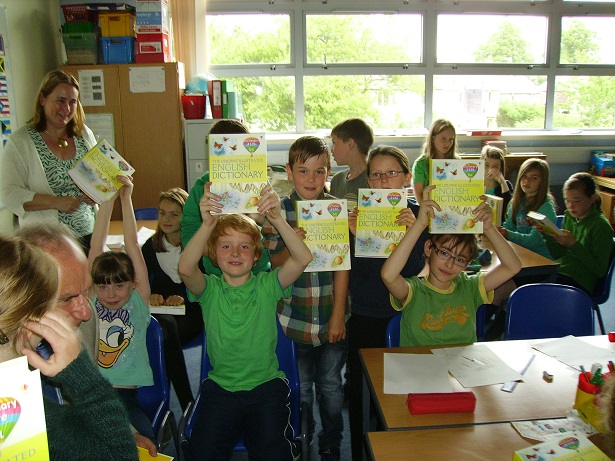 We have arranged for picnic benches to be acquired for the Eric Liddell Centre at Holy Corner.
We have also purchased tables and chairs for the St Joseph's care home (the Little Sisters of the Poor)
We have made a donation to Headway Group for a barge outing on the Union Canal and attended their recent barbeque.
A sponsored walk was arranged for 25 May for the club to traverse the Pentland Hills from Flotterstone to Juniper Green via Balerno and Currie. See photos in Hot off the Press! 482 was raised and divided between Calls for Heroes and Cash for Kids.


This years chair is Mike Rogers.
JOIN ROTARY