Committee Objectives


The majority of our funds are raised through charity collections at local retail outlets. Our most successful event is usually at Christmas, courtesy of the Tesco store at Colinton where our Santa's sleigh is put to good use. In March 2013 2500 each was donated by our club to CHAS and Marie Curie.
You can also help raise funds by shopping on Amazon through this link. Amazon will donate a percentage of what you spend at no additional cost to you. Just click here to go to the Amazon site.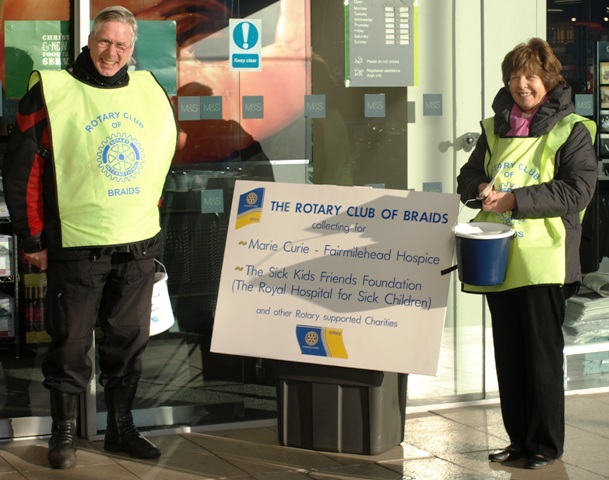 We also hold a number of events with a high social element, our annual Christmas wine tasting evening in conjunction with Henderson Wines is a good example.
JOIN ROTARY AND MAKE DREAMS REAL
Shop & Donate with Amazon at no extra cost to yourselves.
News, reports and events as organised by the
Fund Raising

committee.

No wonder Braids Rotary Club treasurer, Jim Bryce, (left) has a smile on his face. It's been put there thanks to Edinburgh South MP Ian Murray (centre) who responded to the Club's request to get 'bucket donations' included for Gift Aid by raising the question in the House of Commons three years ago. Now the Club is set to benefit by the Gift Aid Small Donations which has been set up and the Treasury estimates that charities nationally could benefit by the tune of 100m in the next financial year. This week the Club thanked Mr Murray by installing him as an honorary member. He was presented with a Rotary pin and certificate by President Kenneth Logan