---

Millom Rotary Club helped with a bee-keeping project in Africa
Click to read all about this project

(A personal contact link is at the bottom of this page)
---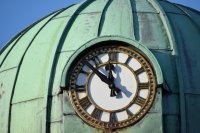 Millom Rotary Club was happy to support the campaign to restore Millom's Town Clock.
Click on the picture to find out more
---

On 22nd & 23rd February Millom Rotarians again held a bucket collection which raised £640 from the generous people of Millom. This money will be sent to the Rotary International 'End Polio Now' campaign. This cash was in addition to the 'spare change' which was collected last year for the same good cause (see below). Each dose of polio vaccine costs a mere 40p so we know that 1,600 children will be prevented from developing polio. Who knows what any of those 1,600 children will now be able to contribute to the future ? Thanks go to Tesco for allowing the collection and to Rotary Past President Keith who organised it.

Click on the picture to find out more.
---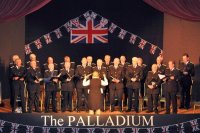 Click the picture and read about the visit of Derbyshire Constabulary Male Voice Choir
organised by Millom Rotary Club.
---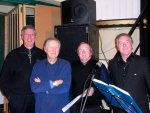 The Rotary Club of Millom held a Music and Curry evening at the Palladium Theatre in Millom in aid of the Millom First Responders. Music was provided free by Northern Lights (a group from Durham) and by the folk duo the Pheasant Pluckers. The food too was cooked and donated by two of the Rotarians. Thanks to ticket sales, contributions from the ever-generous people of Millom, and kind donations from Millom 41 Club, Robert Slack and many others the Club was able to raise over £1000 to support the First Responders who do such valuable life-saving work in Millom and district.

Since this money was raised the Club decided to add sufficient to the total sum to enable the First Responders to purchase a defibrillator for use by the eight First Responders based in Millom.
On hearing of this community effort The Rotary Foundation, which is based in America, agreed to match the amount of money raised and a further £1000 is on its way, via Millom Rotary Club, to the First Responders in the town. The Club would like to thank all Millom people especially those who helped to make this project such a success - thus making Millom an even safer place in which to live.
Click here to see the photographs
---