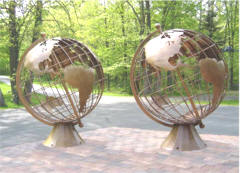 The Public Relations Committee
has a number of responsibilities including:
Keeping the public aware of the activities and achievements of the Club through press releases to the media. The members of the Committee work closely with the Officers of the Club and with the other Committees to try and ensure that a wide range of topics are given external exposure. This section of the Website includes links to recent press announcements.
Keeping members of the Club and the public aware of Club activities via this website. As much information as possible is kept in the public area of the website, but internal communications such as minutes of meetings are kept in the area reserved for members of the Club. This private area also serves to provide reference material for the convenience of members.
Keeping Rotarians and others outside the local area aware of Club activities. Although this website provides one channel for this information, The Committee welcomes enquiries from the media about the activities of the Club and contact can be made via e-mail through this link.