Youth
Details of our youth projects. This committee is chaired by Richard Wilson for 2020-2021
The Avenue of Youth recognizes the positive change implemented by youth and young adults involved in leadership development activities, community and international service projects, and exchange programs that enrich and foster world peace and cultural understanding.
For details of the Rotary Youth Leadership Competition please click here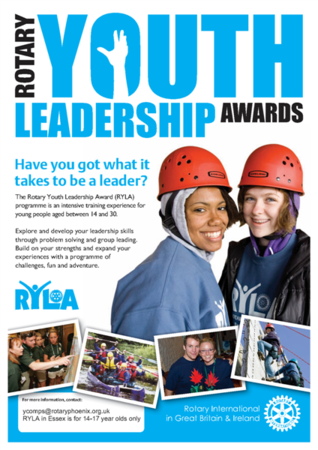 The Rotary Youth Leadership Award develops the leadership skills of young people through a programme of adventure, mind stretching, and physical testing group activities which push the limits and develop skills and character. A RYLA course usually involves a residential experience of between 3 and 7 days.
Rotary GB&I have recently entered into a new partnership with prestigious charity The Diana Award, set up to act as a lasting legacy to Diana Princess of Wales' belief that young people have the power to change the world for the better. The awards exist to celebrate young people who make a positive contribution to their communities in the UK and internationally through volunteering, fundraising, campaigning and caring. Many of our Rotary Young Citizens have gone on to become Diana Award holders.
More info is available if you follow the link below
http://www.ribi.org/committees/new-generations-rg/diana-award-and-diana-network