A report on the Rotary International phenomenal and effective efforts to eliminate Polio from the world.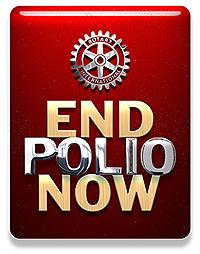 Rotary's Commitment to Eradicating Polio
Feb 2012 - Fergus Walsh of the BBC Visits India reports on the Rotary Polio Vaccination in Progress
Feb 2012 - See the recent Economist article on our efforts and read people's views
PolioPlus Fund US$200 Million Challenge - Click on the image below to contribute:
PolioPlus, the most ambitious program in Rotary's history, is the volunteer arm of the global partnership dedicated to eradicating polio. For more than 20 years, Rotary has led the private sector in the global effort to rid the world of this crippling disease. Today, PolioPlus and its role in the initiative is recognized worldwide as a model of public-private cooperation in pursuit of a humanitarian goal.
In addition to providing financial and volunteer support, Rotary works to urge support from other public and private sector partners. This includes the campaign to End Polio Now, inspired by the extraordinary challenge grants received from the Bill & Melinda Gates Foundation.
Gates Foundation Polio challenges (1 min) Help Eradicate Polio
For more information:
New bivalent Polio vaccine introduced in Afghanistan
A new oral polio vaccine, developed to stop the transmission of the type 1 and type 3 wild polioviruses simultaneously, made its world debut during 15-17 December 2009 Sub NIDs in Afghanistan. An estimated 2.8 million children received the vaccine during the campaign, which was funded by the Canadian government.
According to the World Health Organization, the bivalent oral polio vaccine (bOPV) is proving to be a potent weapon in the global battle to eradicate the disease.
Developed to stop transmission of the type 1 and type 3 wild polioviruses simultaneously, bOPV was introduced in all four polio-endemic countries -- Afghanistan, India, Nigeria, and Pakistan -- in late 2009 and early 2010. It has helped reduce the incidence of polio in India to 39 cases as of 26 October, compared to 498 for the same period in 2009. The number of cases in Nigeria has fallen to 8 from 382 for that period. click here for more information.