Within local communities, Rotary clubs carry out a range of different activities and projects with the aim of improving quality of life.
All community service is an opportunity to raise awareness of our Rotary Club and the wider work of Rotary.
At Esk Valley, we are perhaps most visible when we go round local estates and outlying villages at Christmas time helping Santa on his sleigh. We also give Santa a helping hand to switch on the Dalkeith Christmas lights! For the last few years, any money donated has been given to Midlothian Young Carers to enable them to fund after school projects and outings. At Christmas we also donate food and toys to families who would not otherwise have a very merry Christmas. We also help Bethany distribute Christmas trees.

Twice a year we help Midlothian Rangers with litter picking, pruning or planting.
For the last few years we have helped Poppy Scotland with their garden of remembrance in Princes Street, something which members found very moving and worthwhile.
We have held numerous "Know your blood pressure" events around Midlothian. In July we help at the gate at the Dalkeith Agricultural Show. We have a good relationship with Newbattle golf club and we sponsor a junior golf medal - see Youth sub page for details. We also help out Lasswade Athletics Club by volunteering to be marshals for their road races.
We sponsor a community volunteering award every year at the Volunteer Awards ceremony held at Newbattle Abbey College in conjunction with Volunteer Midlothian.
Since september 2016 we have maintained the garden space at Shawfair Railway Station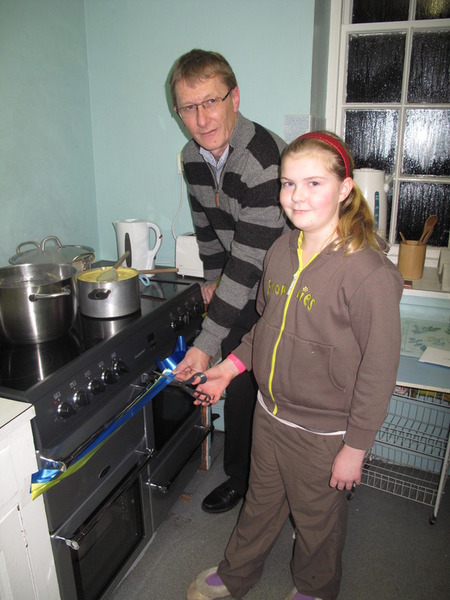 Presentation of a new cooker at the local Brownie House at Vogrie in Midlothian
To have a look to see what the Community Committee has been up to please click the links on the right hand side of this page