Community - Local Activities
Community projects initiated or supported by club members. There are normally about a dozen events each year - and some are major projects.
The Community Committee is involved with several projects each year, some of which are carried out on a year to year basis. Some projects are new to the club, but all are intended to assist and offer help and compassion to people in the community who maybe less fortunate than ourselves.
Kids Day Out
Kids Out is a dedicated day in the year, when Rotary Clubs around the country make the effort to ensure some children either disabled or deprived in some way, have some fun.
Traditionally our club has opted to take a coach load of such children to Blackpool Zoo each year. The day is usually in the first week of June, the club sponsors the coach and entry fee to the Zoo. Many teachers and helpers are required, as some children require one to one assistance and general supervision. Whatever the weather a great day out is enjoyed by all.
In 2012 the `kids day out` involved a trip to `WelliBobs` animal farm, at Lower Darwen; Again more children enjoyed a short coach trip and an eventful day out, including horse riding and zip-wire activities.This exersise will be repeated in June 2013.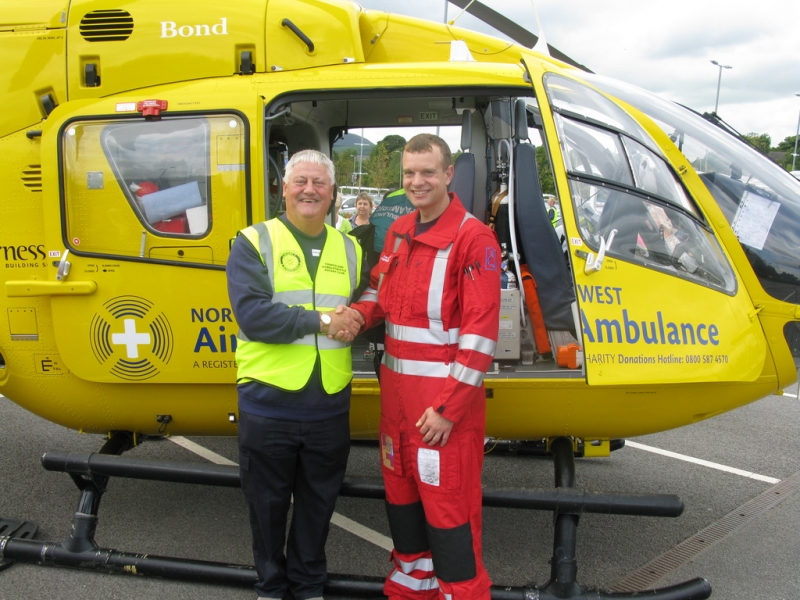 Patrick helping North West Air Ambulance at their information day at Boundary Mill
Eradication of Polio & Focus on Crocus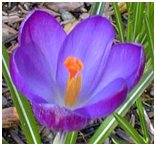 To mark the celebration of life campaign, and the success of the `end polio` project/s, there will be a mass planting across the country of purple crocuses this autumn, 2010; most if not all Rotary Clubs will be involved.
Why purple; the colour purple has been chosen because it is the dye-colour used to dip a child's little finger in, to ensure once vaccinated against polio, he/she doesn't get a double dose.
The big plant was underway in October 2010, and our club planted 10,000 bulbs, at that time. Following on from this project the Club have planted many more crocuses each autumn, throughout the Local area of Church & Oswaldtwistle area.
Our Local Elderly
An afternoon Tea was arranged for the St Andrews Court Housing Association, which took place on Maundy Thursday 2010, and it is hoped that this might become a regular feature for the elderly folks of our area.
Stroke Awareness Day
At the beginning of April each year, there is a day set aside where Rotary Clubs offer a blood-pressure facility to the general public. Our club has chosen to carry out this project at two venues, Oswaldtwistle Mills and the library where members of the public are asked if they would like their blood-pressure taken, we have a qualified nurse present to advise where necessary, and blood pressure details can be issued and taken back to their respective General Practitioner.
Calvert Trust
The Calvert Trust aims to enable people with disabilities, together with their families and friends, to achieve their potential through the challenge of outdoor adventure in the countryside.
We aim to do this by providing:
A wide range of adventurous outdoor activities, meaningful challenge, and adventure within a framework of safety
Skilled, qualified and caring staff able to fulfil the needs of visitors
Accommodation appropriate to the needs of the visitors
Facilities for families and friends to share the enjoyment and experience
The benefits and enjoyment of the activities will be offered to all, irrespective of ability. These benefits include.

The enrichment in the life of each individual through adventure and personal achievement.
The chance to enjoy countryside of exceptional natural beauty
Recreational opportunities that can be transferred into everyday living
Personal development and rehabilitation leading to integration
The Rotary activity week at the Calvert Trust for 2013, is March 23rd to March 31st - our club will be sponsoring a candidate and a carer.