Community Service - addressing local needs
Ashby Rotary Club Community activities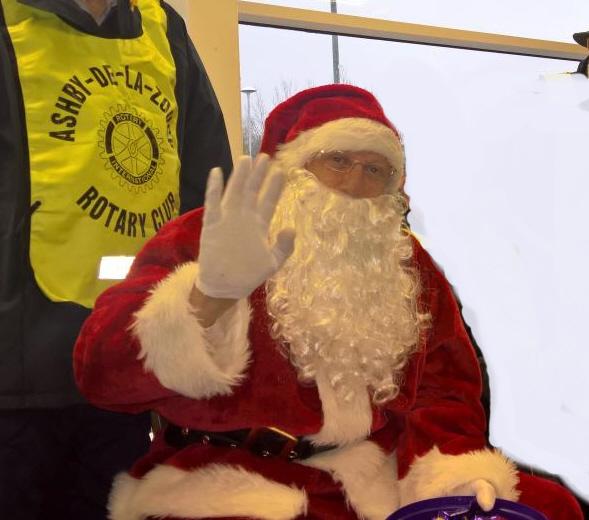 The Club raises a lot of money each year from the local community through its events and collections. We have a registered charity (The Rotary Club of Ashby-de-la-Zouch Charity Fund, registration number:1003624) in order to publicly account for the distribution of funds raised. This page will give you a broad description of our major fundraisers and how we use the proceeds.
Santa's Sleigh
Every year, the Ashby Rotary Clubs work together to help Santa visit children in Ashby and the surrounding villages. Whilst Santa is busy finding out what they want for Christmas, the community supports our fundraising by their generosity in filling our collecting tins. We collect for named charities at Christmas, with the emphasis on local charities which provide for children disadvantaged through health or other problems.
Fundraising Concerts
We have a tradition of staging concerts with the dual aim of providing a platform for young people to perform and to raise money for our projects. Details of forthcoming concerts will be available in the Events link when conditions allow.
Where does your money go?
Ashby Rotary Club is able to give grants to individuals and groups for all types of local provision. For example, we regularly have given support to Scouts and Guides to attend jamborees; given assistance with training expenses to promising young sportspersons and musicians. We support organisations such as the Ashby Play Scheme; the Ashby Museum and Ashby Foodbank.
Every year we, in association with the other Rotary Clubs in Ashby, take a party of over 100 pensioners on a coach outing, providing them with a full day of entertainment, food and other refreshment. Annually we pay for one disabled young adult to attend the Calvert Trust Centre in the Lake District for a week, broadening their horizons on a specially tailored "Outward Bound" course, which also provides much needed respite for their carers.
The Club members choose major beneficiaries, for example, in 2017, the Santa's Reindeer visits to the community enabled the clubs to give over £6,000 to three selected charities. This work has continued in 2018 and 2019 with donations recently going to "Young Carers". Our work continues in difficult times and we were able to bring Santa to all local children in 2020 albeit in a very different way!
Our work continues locally, nationally and internationally!