ROTARY IN RAMSEY
53 YEARS OF SERVICE 2022 / 2023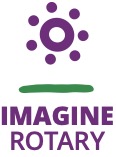 Ramsey is a historic market-town within the United Kingdom of Great Britain in the district of Huntingdonshire and the county of Cambridgeshire. Before the fens were drained, Ramsey was an island in the Fens.
The town of Ramsey was built up around the gate of Ramsey Abbey. The Abbey was governed by an Abbot, who in the early years also controlled most of what went on in the Town. Ramsey was visited by King Edward III with his mother and Roger Mortimer. The people of Ramsey accused the Abbots of taking a large amount of the Hugh le Despenser Treasury. The Abbots appealed to the Bishop of Ely for support against the charges. This could be one of the reasons for the omission of Ramsey in the Doomsday Book.
Ramsey is one of the four principle towns in the District of Huntingdonshire the others being the administrative centre of Huntingdon, St Ives home of the Chapel on the Bridge, and St Neots the largest town in the County of Cambridgeshire.
Rotary in Ramsey was first formed on 9th July 1969, receiving it's Charter on 12th June 1970. 53 years and many changes later we find one of our Founder Members still active in a Club of 30 members, including 11 ladies.
If you want to know more about what we do please browse our website. To tour Ramsey click the link below
Tour Ramsey - From the town centre
We would welcome new members and if that could be you please visit the 'Contact' section of the website and get in touch.