lendwithcare.org
This international project started in November 2011. Regular updates will appear below.....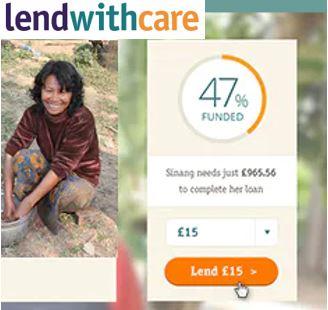 Part of Care International - one of the world's leading aid and development organisations - lendwithcare.org allows individuals and groups to lend to small entrepreneurs in developing countries. These recipients are thus helped to find their own route out of poverty. They approach a local microfinance institution (MFI) with a business plan which includes their schedule to repay the loan.
The MFI uploads the entrepreneur's profile to lendwithcare.org and individuals and groups can then make a contribution to the amount requested in increments of 15 or more.
Shortly after the loan is fully funded and passed to the entrepreneur, the lenders start to receive regular monthly repayments - sometimes over a period of six months, a year or longer - as per the published repayment schedule.
And these repayments can be used to make more loans to other entrepreneurs!
16 JANUARY 2019 UPDATE
Our Rotary Club has been a member of lendwithcare.org since November 2011 at which time we loaded our account with £500. Since then the Club has added a further £930 while individual members and others have donated £1,550 making our total amount available to lend £2,980.
In that time we have made 434 loans totalling £16,414 ranging in size from £15 to £205 with an average loan size of around £37. Because loans are repaid we can lend again and again. Repayments have totalled £14,220 and all completed loans have been repaid in full - with no defaults.
Loans have been given to entrepreneurs in Cambodia, Togo, Bosnia-Herzegovina, Philippines, Ecuador, Benin, Zambia, Pakistan, Malawi, Vietnam, Rwanda, Palestine and Zimbabwe.
Our Club has found this a very valuable way to help people to help themselves. Unlike most other projects, international or nearer home, our loans are repaid and can be used again and again and again.......