From time to time we shall be adding details of major past events over the years we have been running. Founded in 1982, the Club has had many memorable occasions, leaving us much material to show from our past.
There are many photographs from our recent history such as this one, taken from the days when we presented a shield at the Lonach Games, sadly an event we are no longer able to take part in.
..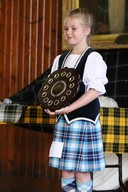 In our Main Picture space you can see pics from our 25th Charter Anniversary in 2008... More will be added as time goes by....