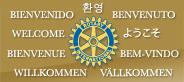 To provide the public with information about Rotary and the good work Buxton Rotary does

To encourage charity and support from the community by promoting the Club's service projects and activities

To show that we enjoy doing what we do - "Fun with a Purpose" - and so encourage new members to join
As part of Rotary International, we undertake various service, social, fun and fund-raising Activities. For more insights visit our Facebook Page, check out our Club Leaflet, (short video takes a few moments to load) or browse this website.
Learn more from Rotary Basics and We're For Communities; you might find Women in Rotary informative?
If you live in/near Buxton, please get to know us by helping with some of our Projects or visiting us? Use our Contact Form, or ring our Secretary, John Cassidy t: 01298 24663 to find out more.
In 2017, Rotary's own Charity - The Rotary Foundation (TRF) - celebrated 100 years of 'Doing Good in the World', having spent $3.7 Billion on humanitarian projects.