Fri 18th May 2012 at 12.00 am -
Thirty eight teams took part in our annual event in association with the Mayor of Truro, hosted by Truro Golf Club. Of the order of £2,600 was raised for the chosen charities.
Annual Charity Golf Day 2012
18 May 2012
In rather overcast but thankfully dry conditions, thirty eight teams played in the Club's annual Golf Day in aid of the Mayor of Truro's Charity and chosen Club charities, raising around £2,600 from entry fees, sponsors, a putting competition and a tombola.
As in past years, the Club presented a sizeable cheque (£700) to the Mayor of Truro's Charity. This year the "Street Pastors" and Shelterbox will benefit from this donation. Recipients of the Club's share were our local St Petroc's Society (also £700) and The Motor Neurone Association (to be presented in due course). The balance will be held in the Club's Charity account.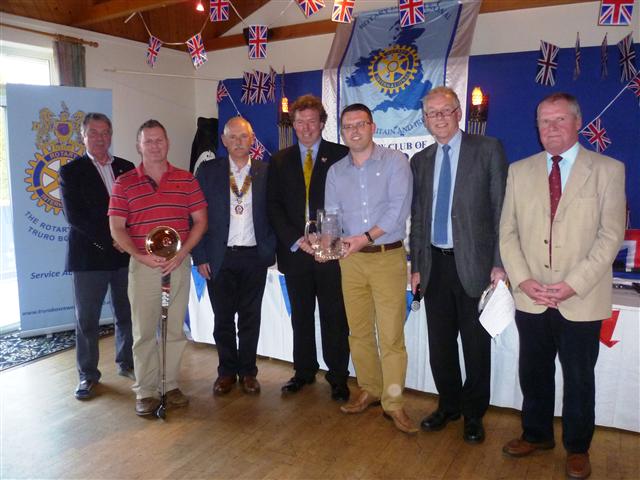 This year's winners of The Rattler Trophy and main competition came from Skinner's Brewery. Pictured (L-R) are David Watkins (Rotary Club), Lee Wheston, President Steve Todd, 2011-12 Mayor of Truro Rob Nolan, Simon Bray, Peter Bayly (RCTB Organiser) and Golf Club Captain Henry Cooper.
The Club is indebted to the teams that took part, the sponsors, the many helpers from past and present Rotary members and partners, and of course the staff of the Golf Club for making the day another success.
Rotary Club of Truro Boscawen
Charity Golf Day, 18 May 2012
Results

Prizes

Team Name

Score

1st

Skinners

83

2nd

Lillicrap Chilcott

79

3rd

Donnington (Nigel Blake) on countback

74

4th

Francis Clark (Winter Rule)

74

5th

Clydesdale Bank

73

Visitors

St. Austell Bay

72

PMH Decorators

71

Seniors

Truro Old Boys

71

Captains Team (TGC)

69

CAW (Cornwall) Ltd.

69

Malletts Home Hardware

68

Out of Wood Ltd.

68

Frost Builders

68

Watkins Welsh Wizards

67

Nalders 1

67

Pink Elephants (The Granary)

65

The Old Guard

64

T and S Builders

64

Le Grande Crew

62

Ocean BMW

61

The Divotees

61

Cober Valley

61

Nalders Two

61

St. Mawes Pirates

60

Rose Between 2 Thorns

60

Hectors Heroes

60

3 under Pars

59

Lions Tail Twisters

59

DJ Rich and Friends

59

CAD Architects

58

Brewin Dolphin

58

Rotary Club of Redruth

54

Danny's Boys

51

Ladies

Susan's Team

51

Yiamas

42

The Hopefuls

35

Stephen Payne Planning

Nil return

Stephens Scown Solicitors

Nil return