In local communities, groups of Rotarians raise tens of thousands of pounds for community projects and local charities, often more. Members also volunteer their time - supervising community events, running a host of projects aimed at promoting the achievements of young people, coordinating educational programmes, supporting the elderly and disabled in our area and working to assist local development.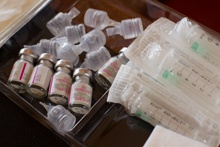 Emergency Vacines
It is said that every minute of every day Rotary will touch the lives of millions somewhere in the world.
By combining their skills and resources, members of Rotary are able to make a real contribution to the lives of others.