On this Social Event members also took time out to remember Roy Barker presenting his Past President's medal to his wife Sue.
Show related pages
PRESIDENT'S MEN BOWL TO VICTORY ON AN EVENING ROY IS REMEMBERED
Calling yourselves 'Kingpins' might seem a bit presumptuous but the team of Barry Bootland, Bill Hudson, Patrick Glenn and John Moorhouse lived up to their moniker at the annual bowls evening at the Rufford Park Club.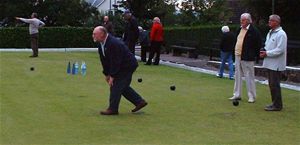 The '3 old men and a young lady' did not fare quite as well but still went home with a prize. As just who was carrying whom was open to debate, names have been withheld!
Several four person teams took part, demonstrating a range of styles, some never before seen on a bowling green. (For action shots see the picture gallery). This year there were more hurdles to negotiate, involving more skills