Kids Out Newent Rotary June 2012
Wed 13th June 2012
Clive Gardiner needs you and your partener's help with our "Kids Out" day on the 13th of June 2012. Please see the note Below.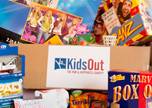 Show related pages
Tim Rosser has sent this message via the members only area of the club website:

Hello All

Clive has asked me to contact you all to let you know that this years Kids Out day will be held on WEDNESDAY 13th JUNE.

He proposes leading a group of Special Needs children to the DICK WHITTINGTON FARM PARK, LITTLE LONDON (LONGHOPE), beginning at 9.30 am

Although at this stage Clive does not know exactly how many children will be involved, or their individual needs, it is vital Rotary Members - and partners if possible - indicate their willingness to be involved for the day.

Would you please therefore let me have an indication of your availability as soon as possible in order for Clive to make further arrangements.

Many thanks,

Tim
tim.rosser@newentbb.co.uk
I have added the above message as an additional reminder to all members. Ray!