Evening speaker meeting at the Baron in Bucknell 7 for 7.30pm
Wed 6th March 2013 at 07.15 - 10.00
Tonight Kim told us about his experiences in the "first" gulf war.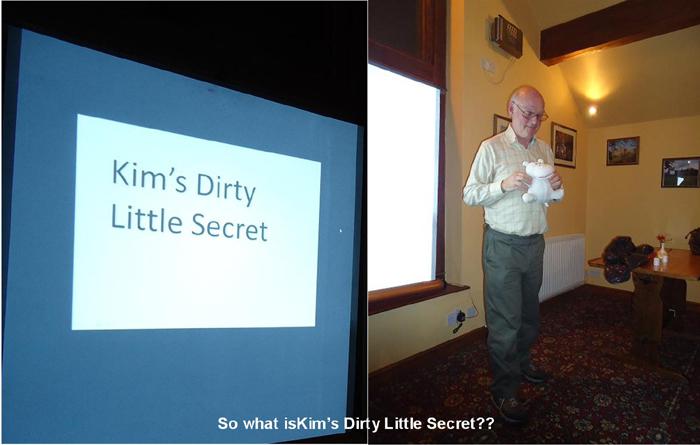 Show related pages
On March 6th one of our members Kim Smith gave a talk on his participation in the wrongly named 1st Gulf War ( Iran & Iraq having been at war for several years previously)
Having been part of the army's forward HQ he was able to give us a fascinating incite into the reasons for the coalition wishing to liberate Kuwait and into the planning that went into the event. He horrified us with the information that the coalition partners did not have the ability to communicate with each other. Even the US Army & Marines didn't have the same equipment.
However, for many of us it was the day to day living conditions and lack of basic amenities that were most fascinating. We were introduced to the 'desert rose' and two and four holers (both basic toilet facilities), told how to find your 'sleep' in the pitch black of a desert night. After a very undesert like rain storm Kim's dirty little secret sleeping companion, was revealed. (See photo).
Eventually we were shown pictures of the devastation in Kuwait after Saddam's troops had left.
One fascinating story was of a female medic who returned from a bathroom break with a 100 POWs. Her husband on the front line was NOT amused. Sadly this story hilighted how many of the Iraqis were conscripts, some as young as 12.
A fascinating evening for all of us and it could have been longer!!!