School pupils fill shoeboxes for needy children abroad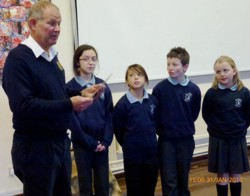 Rtn. Rod Stokes with school House Captains, Rachel McGrath, Lillie Bullock,
Eddie Cooper and Annabelle Maguire-Jones
Pupils from St Anne's RC Primary School in Nantwich did an amazing job filling 60 shoeboxes with life-essentials and small gifts for The Rotary Club of Nantwich to send to children in Eastern Europe.

Nantwich club Rotarian and RI District 1050 International Chair, Rod Stokes said: "Poverty is closer to home than we may realise and by filling shoeboxes with unwanted gifts, toys, stationery and household goods, the children from St Anne's have made a HUGE difference to the lives of children in Eastern European countries such as Romania and Croatia. Some of these children have little more than the clothes on their backs, so to receive a box with small toys, pens and even toothpaste brings enormous happiness and beaming smiles to their faces."
Rod, along with Rotarian Rev Peter Mascarenhas, attended a school assembly to present St Anne's pupils with a certificate to celebrate their achievement. St Anne's Head Mrs Hazel Brown commented:"The c hildren were fascinated to hear the journey their shoeboxes would be taking from Nantwich to Eastern Europe and what pleasure they would be bringing to children receiving them who have a great deal less than they do. They were also amazed to hear about the Nantwich Rotary project which recently brought toilets to a school in Nepal - for the first time! We were delighted to support this very worthy cause and will continue to participate in this and other Rotary events and projects."

The Rotary Shoebox scheme started in 1984, when boxes of gifts were sent at Christmas to children in the city of Lasi, Romania. Since then countries to have benefited are Moldova, Belarus, Ukraine, Bulgaria, Albania, Kosovo and Croatia.