Santa Float Routes 2018
We will be touring parts of Worsley, Walkden, Little Hulton, Wardley, Ellenbrook, Boothstown, Winton. and Moorside between 28th November & 19th December,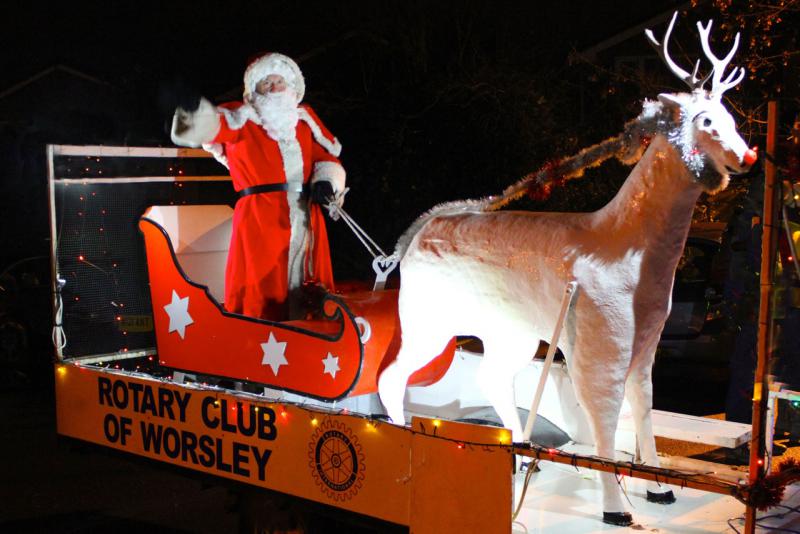 Listed below are the Street Routes routes we intend to follow this year
We will also be at Tescos Walkden on the 15th and 16th and Tescos Farnworth on the 18th and 19th December.
We are also very pleased to announce that we will again be including the 3 routes we added to our schedule last year. These cover the following areas ..............

Friday, 7th December – Coniston Avenue/Eastham Way
Monday, 17th December – Birch Road/Rydal Crescent
Wednesday, 19th December – Madams Wood Road
------------------------------------------------------------------------------------------------
PLEASE READ THIS IMPORTANT NOTICE THAT APPLIES TO ALL ROUTES
Please note that It could be that because of adverse weather or other circumstances beyond our control starting or completing a particular route is not possible.

Please also note that if a road listed is printed in this colour it means that we will not be driving past all the houses. In these instances we will park the Float at the entrance whilst we collect from houses in the close vicinity.

The Start time for all routes is 6:30 pm and Finish time is 9 pm
---
1. Wednesday, 28th November Wardley
2. Thursday, 29th November Walkden North

3. Friday, 30th November Whittle Street

4. Monday, 3rd December Worsley/The Green/Drywood

5. Tuesday, 4th December Barons Fold & Amblecote

6. Wednesday, 5th December Ringlow Park & Broadoak

7. Thursday, 6th December Standfield/Ellenbrook South

8. Friday, 7th December Moorside South
9.
Friday, 7th December Coniston Avenue/Eastham Way
10.
Monday, 10th December Worsley Village
11.
Tuesday, 11th December Boothstown

12.
Wednesday, 12th December Kenyon Way

13.
Thursday, 13th December Ellenbrook North/Broadway
14.
Friday, 14th December Roe Green

15. Monday, 17th December Birch Road/Rydall Crescent

16. Tuesday, 18th December Walker Road/Westwood Estate

17. Wednesday, 19th December Madams Wood