About Us
Rotary Club of Perth Scotland History
Club History 1917 - 2017
Rotary came to Perth in 1917, when two Edinburgh Rotarians, Dr. Thomas Stevenson and Mr. Alexander Wilkie visited the town at the suggestion of Mr. Alexander Ross of the Perth Commercial School. Other businessmen, including Francis Norie-Miller (later Sir Francis) of General Accident, were approached, with the result that a meeting was held in the Grand Hotel, Kinnoull Street.
At the meeting it was decided to form a Club, with Francis Norie-Miller as the first President and Harry Douglas as Secretary and Treasurer. The Club's Charter was presented on the 12th October 1917, when the Perth Club became Number 16:
Rotary International in Great Britain & Ireland (R.I.B.I.)
It is a duty of Rotary Clubs to extend the movement, in 1917 Scotland had three Clubs, Edinburgh, Glasgow and Perth. Since then the Perth Rotary Club has fostered the formation of Clubs in Dundee, Crieff and Blairgowrie. In Perth itself the Club has also given birth to two daughter Clubs, the Rotary Club of Perth St. John's in 1976, and the Rotary Club of Perth Kinnoullwhich received its Charter on 30th May 1992.

Looking back over 100 years, it was people who made their times and by their actions decided whether institutions, including Rotary, should wither or flourish.
Current members of the Rotary Club of Perth, can only take credit for the past 100 years to the extent of their individual memberships. Rotary is concerned with interpreting the ideal of service, in life and work, and provides the means whereby individuals can help each other, and perhaps more importantly, others throughout the world who are less fortunate than themselves.
Service can take many forms and develop in many different ways through the efforts and the skills of individual members; but it is Rotary which gives the opportunity, and that is the most important legacy left by our members over the past 94 years - the Rotary Club of Perth.

Club Members - 1917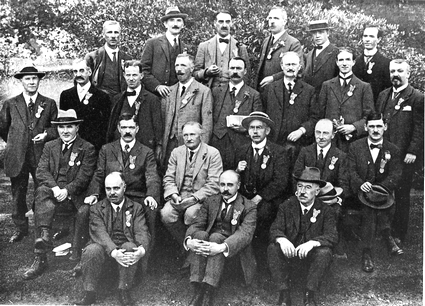 Back Row: Dugald Walker, A.W.Brown, W.E.Thomson, Walter Stewart,
David Anderson, A.B.Lunan.
Third Row: J.S.Donald, T.Teal, Martin Bates, A.Duff, John Buchan, Roger Hall, J.McIntyre-Cathles, W.McCracken.
Second Row: Robert Campbell, John Forbes, Francis Norie-Miller,
Alexander (Alex) Ross, Mayhew Allan, J.McKinlay.
Front Row: Thomas Hunter, Frank Eastman, Thomas Love.
Club Members -2017