Races
A major event in the middle of May each year is the organisation of a 10 mile road race, and a two mile fun run, centred around Great Baddow. The 2024 date is Sunday 19 May: make sure you make a note of the date!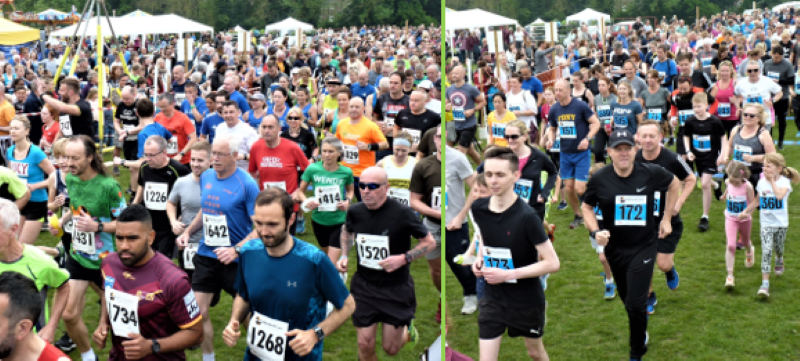 This event has been held annually since 1986 and Chelmsford Mildmay Rotary has been organising it since 1991. Mildmay is delighted that we are now partnering as organisers with Chelmsford Rivermead. We are grateful to all our sponsors. All the money raised goes to help support local charities. For more information go to the Great Baddow Charity Races.
Santa's Sleigh
2021 saw us embark on an exciting new project, to build a Santa Sleigh to help with our fundraising activities.
Work started in June on the construction of the sleigh. We were gifted an old caravan and trailer which, following a 'smashing time' dismantling it, resulted in the perfect base for our sleigh. We were supported financially from the NFU Mutual, local businesses and family and friends of club members and the construction was completed in November with the final lights and music added at the end of the month.
'Touring' started in early December and our plan is to support the local communities of North Springfield, Beaulieu and the new Channels estates.
This project will take up a lot of our time in the winter/Christmas seasons going forward, hopefully to benefit our preferred and local charities.
The Wilderness Foundation UK

The Wilderness Foundation education and therapy programmes help young people and adults reconnect to society and themselves through outdoor facilitation adventures, therapy and mentoring. The programmes highlight the positive impact of wild nature on personal and social wellbeing.
Aims
"Our aims include using the outdoors, nature and wilderness experiences to bring about measurable, positive change and improved mental health within disadvantaged and vulnerable young people and adults, enabling them to lead a healthy and active life and improve their personal sustainability, independence, belonging, self-esteem and resilience."
The Children's Society East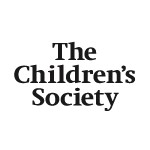 The Children Society East works with families and young people across Essex, Hertfordshire and Norfolk and Chelmsford Mildmay Rotary Club supports their Community Hidden Harm Awareness Team CHHAT. This team supports young people who live with parents with alcohol and drug addiction.
Six years ago CHHAT almost collapsed through lack of funding and were saved by a number of key community partners Mildmay Rotary Club being one of them. Seeing the value of the work undertaken we have been extremely pleased to have continued to support them.
Due to the confidential nature of this work we liaise closely with a key worker to ensure we provide support through donations at key times such as Christmas or during the recent difficulties caused by the Covid19 pandemic.
Recently members responded to a request to find painters and decorators for the Society's premises in Chelmsford. The club did more than that and members redecorated rooms including the reception, the training room, two meeting rooms, the corridor and disabled toilet. We provided the paint and labour and saved the Children Society thousands of pounds. We hope to complete the final area needing redecoration in 2022.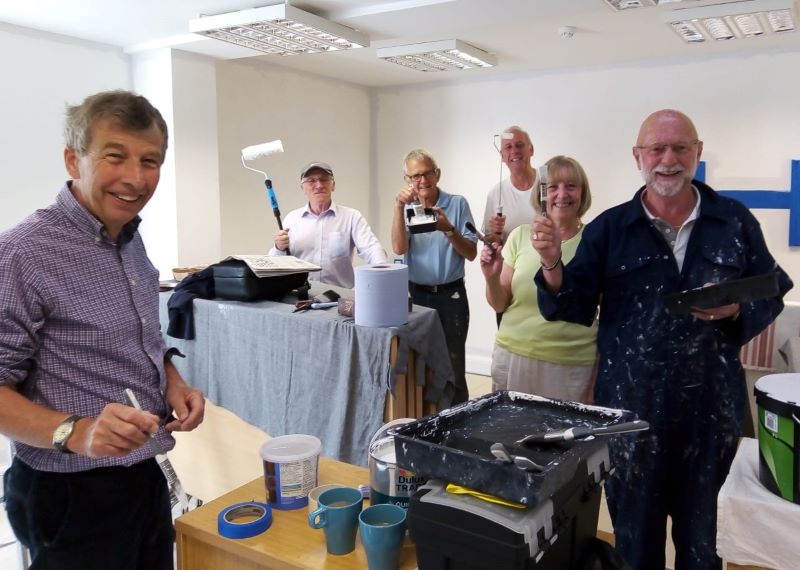 Other local charities
We also support many other local charities in various ways, be it with financial help, physical help or publicity.
The Rotary Foundation is Rotary's own charity
Throughout the world, Rotary Foundation funds improvements in health, supports education and helps to alleviate poverty. One of the main projects spearheaded by Rotary Foundation is the eradication of Polio through its support of a global vaccination programme. From a staggering 125 polio endemic countries in 1988, Rotary's efforts helped to reduced this to just three in 2015.

In August 2020 the World Health Organisation's African region was certified wild polio free. Polio is still endemic in Afghanistan and Pakistan and so there's no letting up in efforts to rid the world of polio.


Chelmsford Mildmay supports various End Polio initiatives including planting purple crocuses at RHS Hyde Hall and Chelmsford Central Park.

International Projects
Through Rotary International we support a number of international projects.
South Africa Internet Classroom Project
For a number of years we have been 'twinned' with a local Rotary club in Klerksdorp South Africa. Recently, one of their objectives, was to construct a classroom from a cargo container, equip it with computers, printers and classroom equipment, and site it in a local township so that disadvantaged local children had access to the internet to complete their school studies. The poor townships do not provide children with extra technical help to support their education so this seemed like a worthwhile project.
In 2020 Klerksdorp Rotary Club commissioned their first 'Internet Classroom' which is providing superb facilities for local children. Klerksdorp Rotary Club has identified three more townships that would benefit from such a classroom.
We wanted to be a part of this successful work so fundraising began to enable us, with the oversight of our Klerksdorp colleagues, to provide a compete classroom provided by the Rotary Club of Chelmsford Mildmay.
Initial funds raised have enabled Klerksdorp colleagues to search for a suitable container on our behalf, but work has slowed due to the world shortage of containers due to Covid and unrest in parts of South Africa.
Our colleagues, however, are confident we can overcome these delays and fundraising permitting we hope to complete our first 'Internet classroom' in this Rotary year.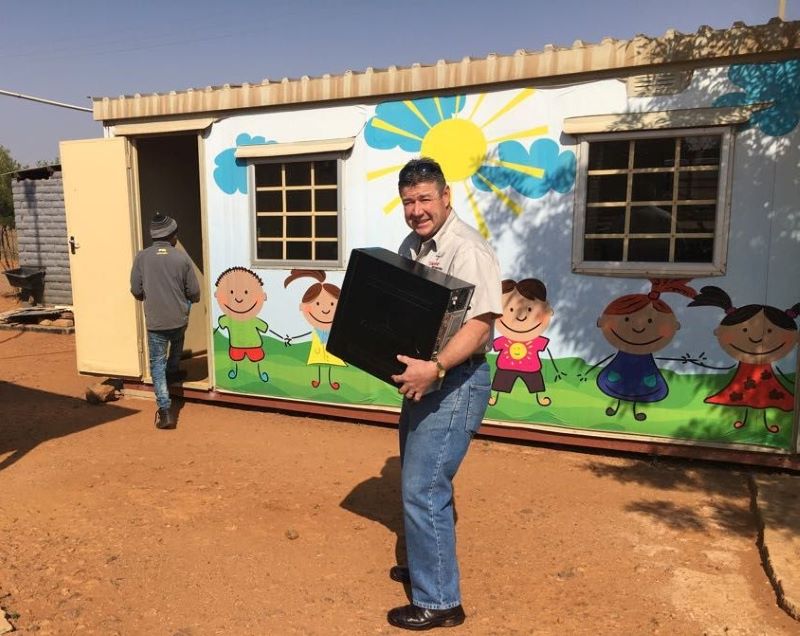 Computers for Tanzania
A major international project was providing equipment for schools in Tanzania. See Computers for Tanzania.