Show related pages
Our Activities:
2012-13 Convenor Ian Bedwell
Nov 2012
Club members will be providing festive cheer for the residents of Blackhills Court, Pitcairn House and Kirkton House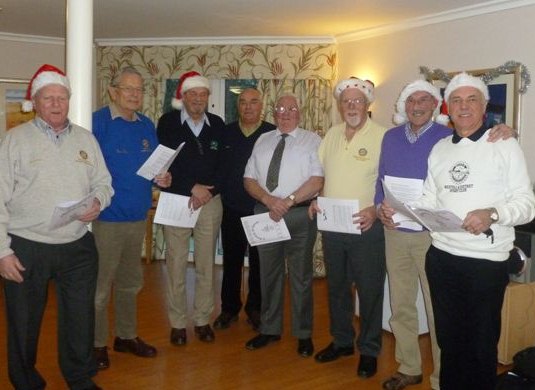 during December. A "select" group will be providing Christmas entertainment to the residents in the form of a choir, schooled by Morag Simpson.....we hope not to adversely impact on the hearing of the residents!!
While not entirely under the banner of "Comm - Voc" members will be manning the ROTARY- CLAN Bon-Accord car raffle desks on the 27th Nov and 22nd Dec. There has been a good response, as usual.......members are looking forward to the days ahead.
Our first day onTues 22nd Nov started well withh tickets sales going at a steady pace. However as the day went on sale slackened Members enjoyed the banter....see photos above.
Members have just finished adding to the array of daffodil bulbs around the Westhill Rotary stone. Last year's spring display was impressive when in full flower.....the additional planting will stretch the floral display eastwards.
Sept 2012
Sept 1 / 2 Westhill Rotarians throughout Saturday and Sunday supported the Rotary Car Raffle in aid of CLAN by selling raffle tickets at COSTCO. Thanks to the geneerous support of the Rotarians who gave their time and the members of the public who bought the reaffle tickets we were able to add over