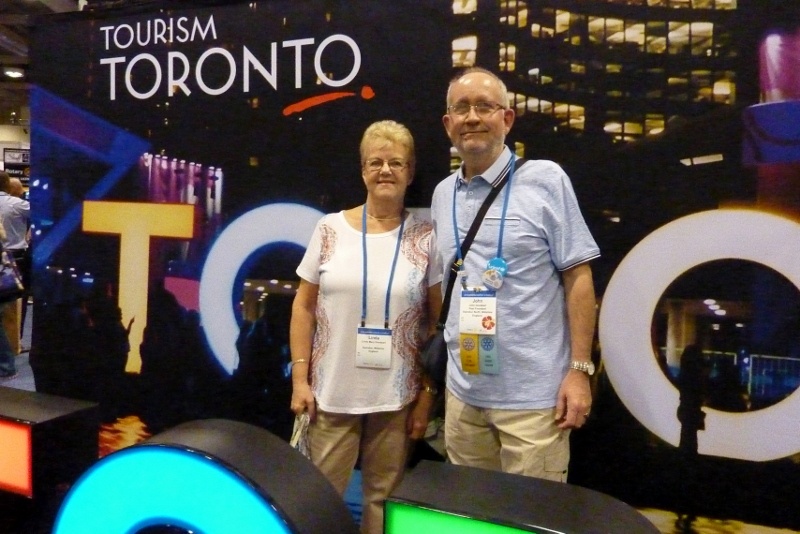 25,188 Rotarians from around the world came to Rotary's 109th annual convention looking for and finding inspiration. Also there was a Princess, three Prime Ministers, a former First Lady and Swindon North Rotarian, John Goodearl with his wife Linda (pictured).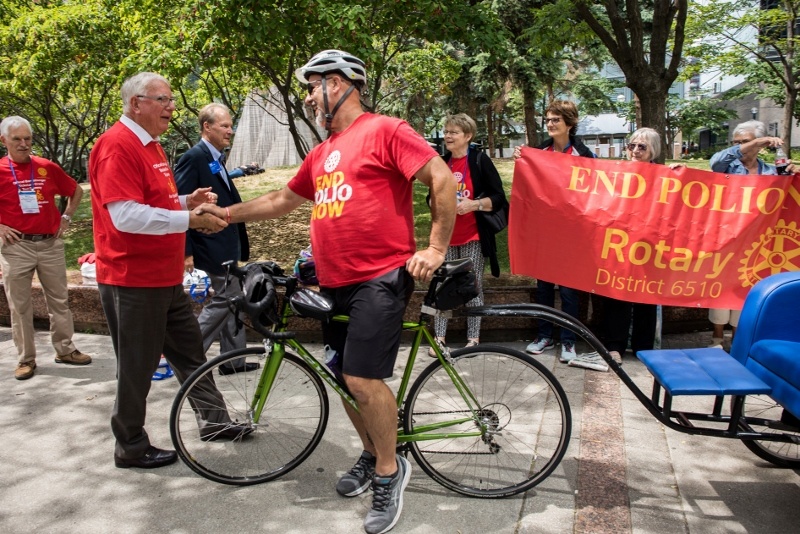 Ralph Zuke, president of the Rotary Club of Fairview Heights, Illinois, USA, rode his rickshaw to the Convention. He was greeted by RI President Ian H.S. Riseley when he arrived. Zuke's trip took 22 days and raised $22,000 for polio eradication.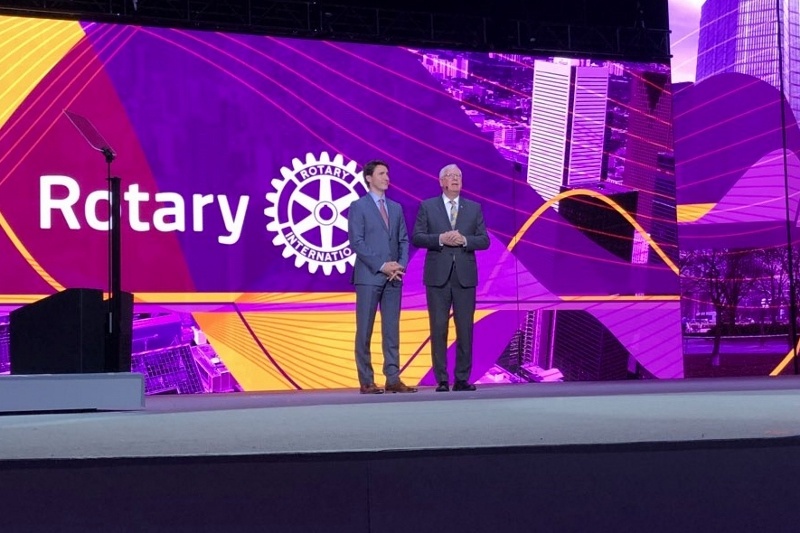 Canadian Prime Minister Justin Trudeau received Rotary's Polio Eradication Champion Award in recognition of Canada's contributions to polio eradication. "Let there be no doubt we are winning the battle against polio," he said. "I want my children to grow up in a world without polio. Together I know we will make that happen."
The 109th Rotary International Convention was held in Toronto from 22nd to 27th June 2018.
For Swindon North Club member John Goodearl and Linda it was the fourth International Convention they've attended. John writes:
"After arriving at Toronto airport we picked up our Convention badges which gave us free transport by train straight to Toronto centre. The total attendance was quoted as 25,200 and some 3,900 Rotary Clubs were represented – including Swindon North! The 'House of Friendship' was situated in the Metro Toronto Convention Centre, which is almost at the bottom of the CN Tower. There were dozens of stalls there selling Rotary and other products; stands for Rotary Districts and individual Clubs to showcase their projects; and exhibits by all sorts of charities.
The General Sessions were held in the Air Canada Centre which, amongst other things, is used as an ice-hockey venue. The opening ceremony was held on the Sunday - two opening sessions have to be run because of the numbers attending. We were lucky to be in the second session at which HRH Princess Anne spoke warmly about the work that Rotary does (she is an Honorary member of a Scottish Rotary Club) and about Save The Children of which she is the long term President. (We heard, though cannot confirm, that she flew in especially for the Convention talk and flew home again).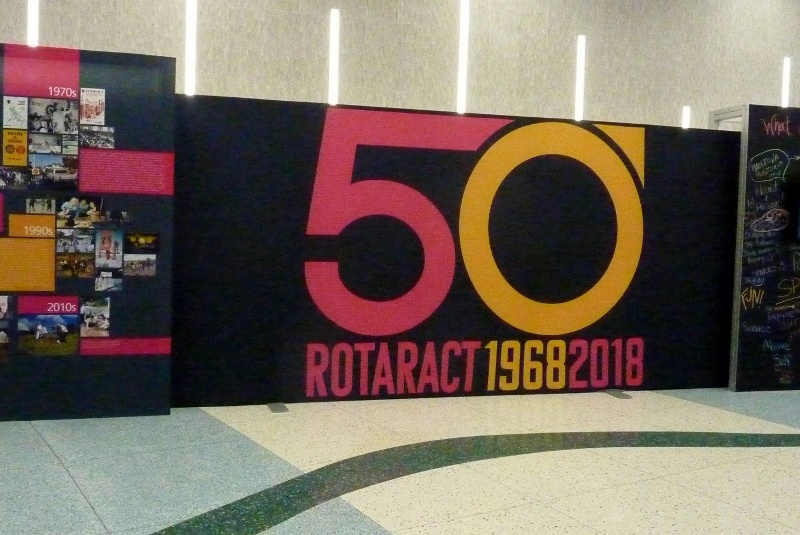 2018 is the 50th Anniversary of Rotaract so there was a special session with three Rotaractors from Australia, Uganda and Pakistan, chaired by an ex-Rotaractor, now a Rotarian, from Nigeria. The Rotaract Club I belonged to was formed in Blunsdon in early 1972 – just four years after Rotaract started.
Speakers at the Convention included the Director-General of the World Health Organisation giving updates on their work with Rotary on the End Polio Now campaign, past USA first lady Laura Bush, a filmed message from the Prime Minister (and Rotarian) of Haiti and Helen Clark the former Prime Minister of New Zealand.
The closing ceremony was held on the Wednesday evening and rumours went around that Justin Trudeau, Prime Minister of Canada, would be speaking and this proved to be correct. Again much appreciation of the work that Rotary does. The new RI President Barry Rassin, RC East Nassau, Bahamas, spoke of his hopes for his Rotary year.
A note of some 'local' interest: Gordon McInally, Rotary Club of South Queensferry, was Chair of the Convention Committee and Cheltenham Rotarian Ian Thomson, known to many of us in Swindon North, was also on the committee and performed the role of chief sergeant at arms.
Overall an enjoyable Convention. We still think the one in Birmingham was the best but perhaps we are biased. Next year's will be in Hamburg, so a lot closer to home although we're not planning to attend it. But in 2020 the Convention is in Honolulu.........now that could be of interest."