2015 Charity Walk : Sunday10 May
A walk organised and managed by Newbury Rotary to enable you to raise funds for YOUR chosen Charity or Community Group.
Rotary provides the route, the signs, the marshalls.
Your Organisation provides the walkers, the sponsors and the enthusiasm.
Pop the date in your diary: Sunday 10th May 2015.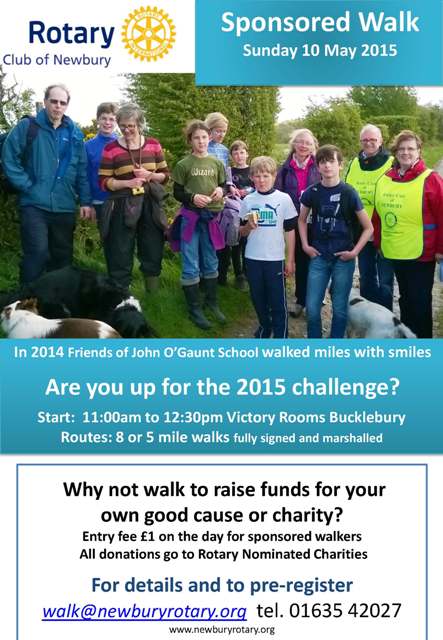 This year's walking route is based around Bucklebury village, starting at the Victory Rooms.
The route of either 5 or 8 miles will be fully signed and marshalled.
Entry Fee: £1 per walker on the day.
All donations to Rotary nominated charities.
Download the Sponsored Walk Leaflet and start recruiting your team.
Download the Sponsorship Form and sign up your sponsors.
Full route details coming soon.
Contact us for more details and to pre-register.
Here is a preview of the 8 mile route:
Newbury Annual Charity Walk 2014

The 2014 Newbury Annual Charity Walk took place on 11th May, 2014.
Just under 60 walkers participated. Read more.....

Complete the virtual 8.5 mile walk around Walbury Hill below in just under 2 mins although the walkers took a more leisurely pace on the day itself, taking between 2.5 and 4 hours to complete the course!

The Rotary Club of Newbury has been facilitating this Annual Charity Walk for over 20 years and as a result it has enabled local, national and international charities and groups to benefit to the tune of in excess of 50,000 over the last 10 years, truly representing Rotarys objective of Service above Self.
In 2013 Newbury Rotary Club was asked to create a charity walk which was more challenging and it certainly was a walk choice of either 5 or 8 miles was on offer on the 12th May, which included some appreciable gradients and the opportunity to get to the summit of the highest hill in southeast England, Walbury Hill.
Some 63 walkers turned out to support their own favourite charities resulting in a charity benefit of over 3000.
Groups represented more than 11 charities. The youngest walkers were from the 2nd Cold Ash Brownies with a group of 13. Other charities represented included Bruce Trust, Christian Aid, Motor Neurone Disease Association, Mother Theresas Orphanage, Oxfam, Parkinsons, St. Marys Wall Paintings, St Marys Church Shaw, Stroke Care for Newbury and West Berks and West Berks Mencap.