2014 Charity Golf Tournament
Another wonderful day of golf for all the teams at Donnington Valley Golf Club, raising over £1000 for Parkinson's UK (Newbury Branch)
The tournament winners were Tim Barton, Patrick Griffin, Ian Young, David Jones.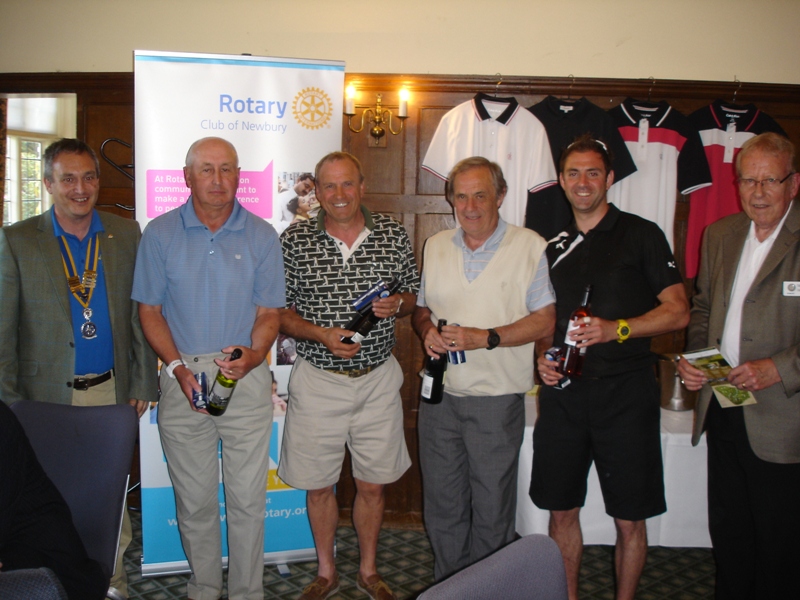 The runners up were Mick Gardiner, Mike May, Mike Faulkner, Jon Gardner.
Well done to all who participated and helped us raise the funds for charity.
And a big thank you to Rtn Trevor Gibbons for organising another great competition.
2013 Charity Golf Tournament at Donnington Valley Golf Club
Eleven teams took part and the event generated over 1000 shared equally between Parkinsons UK (Newbury and District Branch), and other Rotary charities.
The winners were Sidells City Marauders represented by Barry Dodds, Eddie Webb, Peter Sidell & Keith Angus.
The runners up were Playing more in hope than expectation with Tim Chester, Laurie Byrne, Tom Chester & Lindsay McCloud.
Newbury Rotary President Roy Wood presented all the prizes including Nearest Pin 9th Hole (Judy Cleaver), Mens Longest Drive 18th Hole (John Haberfield), Ladies Longest Drive 18th Hole (Lorna Gibbons).
Congratulations and a big thankyou to all the teams for "driving" through the rain and making the tournament a successful and fun day of golf.