RP Fighting Blindness
Retinitis Pigmentosa Fighting Blindess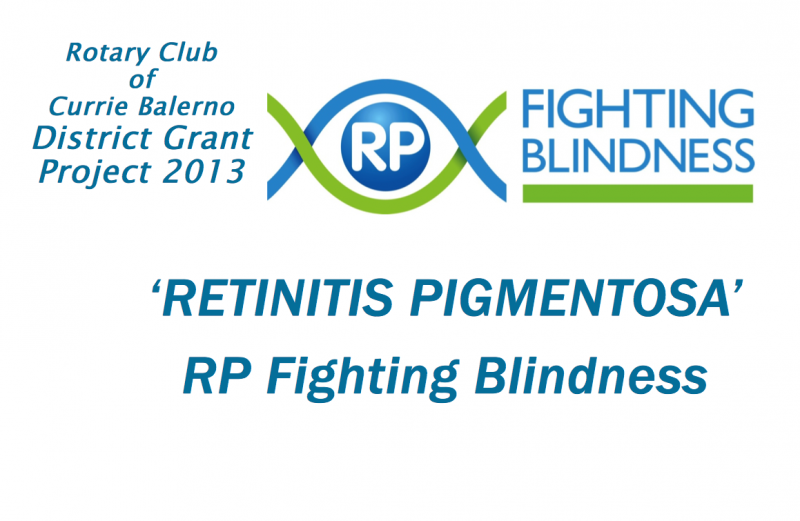 RP Fighting Blindness (RPFB) is a charity providing help and support to people suffering from Retinitis Pigmentosa which is the name given to a group of hereditary disorders causing a deterioration of the retina.
The first symptom may be night blindness leading to a form of tunnel vision and ultimately blindness. There is currently no treatment that will halt the progress of RP or reverse its effects but RPFB are funding research across the UK. Meantime they offer their services free of charge to anyone affected by RP.
RPFB are entirely dependent on donations from the public as the charity receives no government funding.
Our Club started to support RPFB in 2013-14 by championing this cause across the Rotary 1020 District..
Click HERE to view the PowerPoint presentation
---
---
UPDATE JULY 2015
Our Club RPFB 'champion' Ralph Allardyce has received an update - the letter can be viewed HERE and Ralph points out that in the second paragraph the reference is of course to the Rotary Club of Currie Balerno and that Michel Michaelides is Professor of the Gene Therapy Team at UCL.
---
UPDATE OCTOBER 2014
Our Club RPFB 'champion' Ralph Allardyce received a letter from the Chief Executive of the charity in October 2014. It listed a number of achievements by the project team, namely:
- The establishment of the Adaptive Optics imaging system at Moorfields used to image the retina with an unparalled degree of clarity and preceision. This new equipment is the first of its kind anywhere in Europe.
- Coupled with this, the team is developing further an array of visual assessment, perimetry and imaging technologies to support patient endpoint analysis and enable early detection of clinical effect or safety concerns during trials.
- Five on-going ethically approved studies to molecularly and clinically characterise patients prospectively in preparation for gene therapy trial.
- Significant progress including the securing of additional funds from MRC towards a clinical trial of 12 subjects using gene therapy in Achromatopsia.
- Planning and designing several other trials (at various stages of planning) of gene therapy in specific types of retinal degeneration.
- The publication of a number of peer reviewed scientific papers.
The full letter can be viewed: