There was a good turnout of runners from all over the country. 246 registered and 218 actually ran. Despite the slightly cooler temperature, we added a third water station and this was well used!
No records were broken this year but Julie Briscoe, of Wakefield Harriers, came within seven seconds of breaking the Ladies record when she finished 1st lady and 4th overall in 58min 23secs! 2nd lady was Heidi Dent, from Kirkby Stephen and Howgill Harriers in 62min 33sec. 3rd Lady was Claire Howard of Sheffield and Totley AC, in 69min 10 secs. All three ladies beat last year's winning lady's time.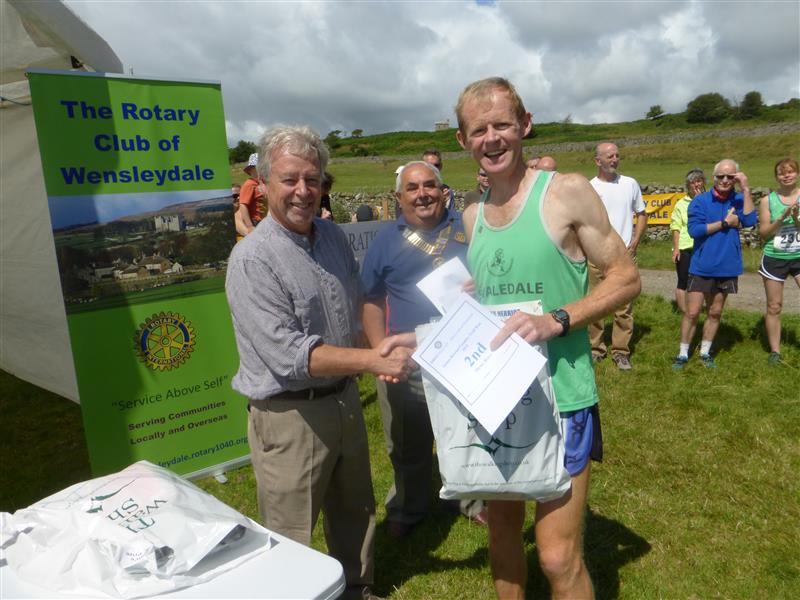 Mike Jefferies, of Grinton and Billingham Marsh House, was 1st Man home again in 54min 48secs, 1min 02sec faster than last year. 2nd home was Tony Lambert, of Carperby and Swaledale Road Runners, in 55min 55sec, almost three minutes better than last year when he was third. 3rd home was Sam Fisher, of Sedbergh and Howgill Harriers, in 58min 08sec, running here for the first time.
Swaledale Road Runners won the men's team race for the second year running. London Frontrunners won the Ladies team race, while Howgill Harriers won the mixed team trophy at their first visit.
Other results in brief
Men over 40; 1 Mark Forrest, London Frontrunners (for 2nd year); 2 Paul Muller, Horwich RMI
Men over 50; 1 Kevin Hesketh, Preston Harriers; 2 Andy Todd, Nidd Valley Harriers
Men over 60; 1 Neil Scruton Scarborough AC; 2 Rob Burn, Thirsk & Sowerby Harriers
Ladies over 35; 1 Heather Halliday Bedale & Aiskew; 2 Caroline Hall, Wirral AC
Ladies over 45; 1 Marian Hesketh, Preston Harriers; 2 Anne Middleton Denby Dale Travellers
Ladies over 55; 1 Pat Kirby, Thirsk & Sowerby Harriers; 2 Jacqueline Ackroyd, Otley AC
Team Races
1st 4 Men Rotary Trophy; Swaledale Roadrunners
1st 4 Ladies Swaledale Roadrunners Trophy; London Frontrunners
Mixed Team of 1st 2 Men and 1 Lady; Howgill Harriers
Jim Whyte, son of James Herriot, presented the prizes
For those who asked for a full list of runners and finishing times, click on Results 2014
01/08/14 All Photos have been added, though I apologise for the poor quality of some on the slideshow due to a camera fault. Click on "Images" above the slideshow to display them all on one page to help you scan through quickly. Also, please click on Peter Richardsons Photos, which will take you to a series of truly excellent photos taken by him- many thanks Peter!!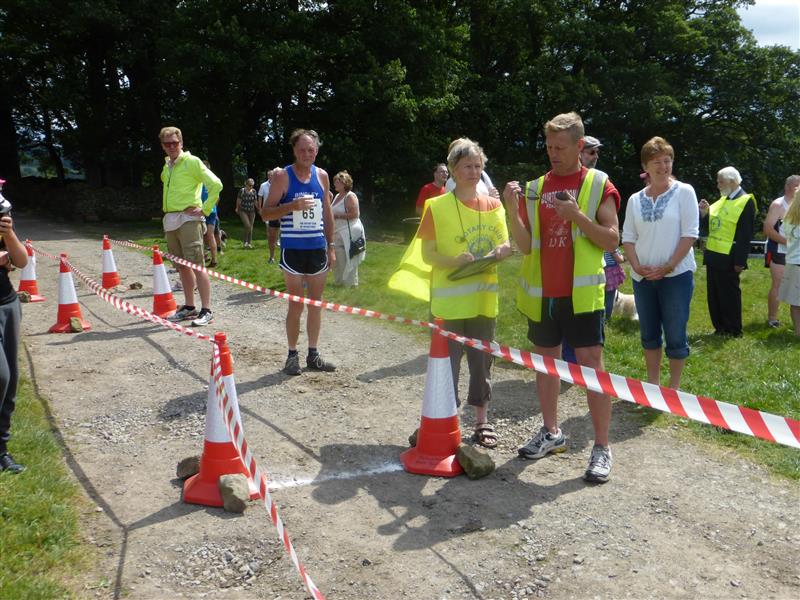 A big thank you to Liz Sowter, John Wilson, and other members of Swaledale Road Runners who again gave up their spare time to manage the finish and time-keeping- a job we Rotarians would feel incompetent to do, so we could not manage without them!
Thank you to all the clubs and individuals who took part, we hope you enjoyed it and want to come again! We will have raised around