This year's challenge was to convey a miniature ShelterBox across an imaginary ravine where there was no bridge except a wire stretched between towers. A ShelterBox was on display, and a video describing this marvellous project was shown while the Judges were deliberating.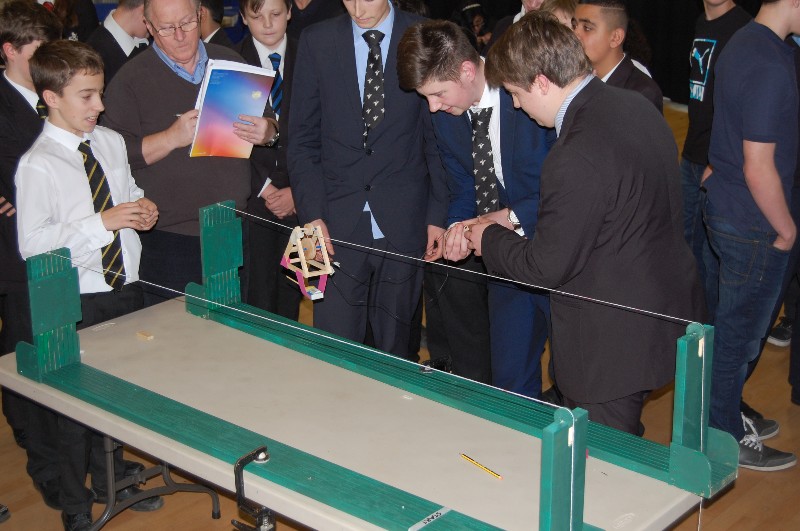 The photograph shows STEM Ambassador Adrian scrutinising a test run by a team from Sir Wm Borlase's School Marlow.
As usual the results were very close; winning teams were:
Foundation - John Hampden Grammar School;
Intermediate - Sir Wm Borlase's School;
Advanced - Kennet School Thatcham.
We were priviledged to be hosted by Cressex Community School, an ideal location to which we have been invited to return.
[to be expanded]
Find us on our Facebook Page - there is now an Album of photographs. Like and Follow it if you are interested.
By holding the Tournament in December we thought it would be easier for schools to fit it in to their busy calendar. This tactic was successful and we had 19 teams despite the necessary absence of some of our customary schools.
The day was rated a success.
We now have an effective affiliation with the STEM/CREST initiative who are encouraging schools to use the event as a step towards CREST Discovery awards. Science Oxford, who administer the initiative in our area, helped us by distributing an invitation to all the schools and colleges on their books.