Tue 18th November 2014 at 12.00 am -
This year two schools competed - girls from Truro High School entered for the first time, with old stagers from Richard Lander School a week later. The winners went forward to the District competition in February 2015.
Truro High School for Girls, 18 November 2014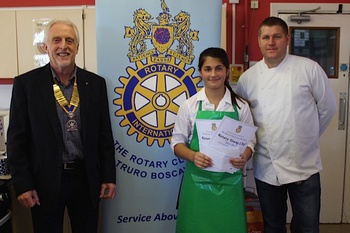 The winner was Elena Slavoni, who prepared a meal of monkfish wrapped in Parma ham, with samphire mash and tomato sauce, followed by treacle tart with lavender and crème fraiche.
Elena won a cash prize from the Rotary Club, and a day's work experience with judge Colin Hankins in his restaurant, Taste St Agnes.
Presentations were made by Club President Frank Perry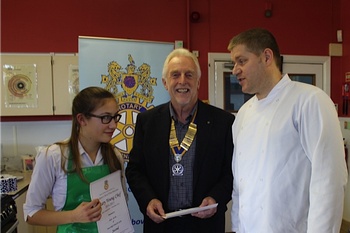 In second place was Carolyn Squibb, who cooked mackerel marinade with soy, lime, and ginger dressing. Pudding was rhubarb fool.
Edwina Chow came third, with her main course of courgette seafood with tomato rice, followed by coconut rice pudding.
The event was judged by Colin Hankins (owner and chef at Taste, St Agnes)
Richard Lander School, 27 November 2014
The twelve contestants had two hours to prepare a three course meal costing under £10, with the judges taking into account not only preparation and presentation, but also the menu, table decor, layout, and food hygiene.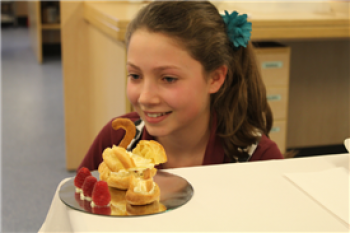 Joint first was awarded to Lottie Shipp (who came second in last year's event) for her meal which was crowned by a choux pastry swan, filled with whipped cream and chocolate garnache, displayed on a mirror to simulate water and reflection.
The starter was a roast vegetable stack with grilled halloumi and lime drizzle. Her main course was duck on creamed potato, with plum sauce and green beans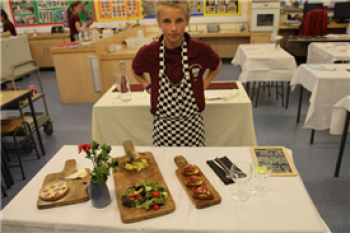 First place was also awarded to Joe Hayes, who served his meal on wooden boards. The starter was bruschetta with homemade pesto, the main course was baked Cornish mackerel on crushed new potatoes with olive salad, and the pudding a white chocolate tart with creme fraiche and raspberries.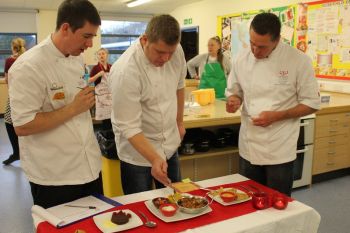 The judges were (L-R) Rob Duncan (executive chef at Hooked - Truro and Falmouth), Colin Hankins (owner and chef at Taste St Agnes), and Karl Jones (training and development chef at Fifteen, Newquay).
Both winners won a day's work experience in each restaurant,and cash prizes from the Rotary Club, with other gifts from the restaurants.
The Rotary Club is most grateful to them for their time, expertise, and generosity.
Helpers for each contestant were supplied by the Rotary Club to offer encouragement (but not advice) and to wash up (see photo gallery!)
Once again, the Club would like to thank the Head Teachers and responsible staff of the two schools - Lisa van der Lem (THS) and Julie Ancell (R Lander) - for encouraging the children to take part and producing such enterprising results, to the judges, and of course to the parents for their support.
Pictures thanks to Steve