Great response to Nepal Earthquake Appeal Collection 2nd May
Eccleshall Rotary Club made a collection at the Co-op on Saturday 2nd May starting at 9 am - finishing at about 2pm. We will be accompanied by two Gurkha soldiers in uniform from
International Service: Nepal Earthquake Appeal
The Rotary Club of Eccleshall Mercia had a bucket collection at the Co-operative Supermarket in Eccleshall this morning (2nd May 2015) a week after a huge earthquake that is estimated to have affected 8 million people, hit Nepal.
Co-op manager John James was keen to help and allowed us to collect at the store.
248 Gurkha Signals Squadron 22 Signals Regiment at Beaconside Barracks in Stafford were contacted and they offered to send two of their finest to help us.
The response from the public in Eccleshall was phenomenal and a staggering £1,534.15* was collected in just 4½ hours.
(*This figure includes £116.25 Gift Aid that we will be able to recover from HMRC thanks to the 42 people that completed declaration forms)
The money collected will be used by Disaster Aid UK & Ireland to get Emergency boxes with shelters and water purification equipment to the more remote communities in Nepal. Their response teams are in the country and will ensure the aid reaches those that need it the most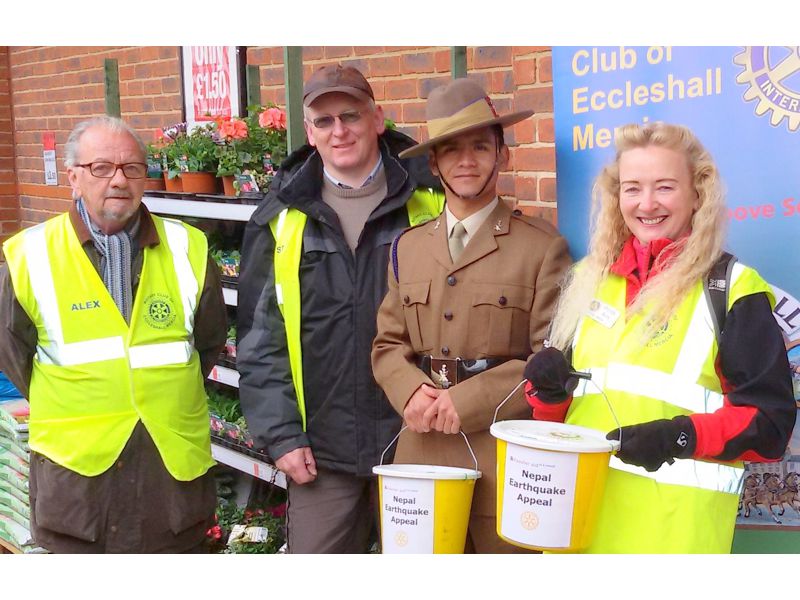 Following the tragic earthquake that hit Nepal this weekend, Rotary International in Great Britain and Ireland has pledged its support to help victims with long term support.
Rotary's Donation Trust has been set up for the Nepal Earthquake Appeal, which will provide support for sustainable community projects once the immediate emergency has been dealt with.
How to donate
If you would like to support the Nepal Earthquake Appeal, you can:
• Use the Rotary online payment option through our BTmyDonate website
• Send a cheque, payable to Rotary GB&I Donations Trust, to: Rotary GB&I, Kinwarton Road, Alcester, B49 6PB.
Additionally the International Service Committee's monthly newsletter features our Kenya Crop Appeal, Eye Surgery in Calcutta, Medair as well as other topics of interest. It may be downloaded here anytime - please be aware the May Newsletter was produced prior to the Nepal Earthquake, hence the separate appeal for both the public and members above.