QUEEN'S AWARD FOR ROTARY CHARITY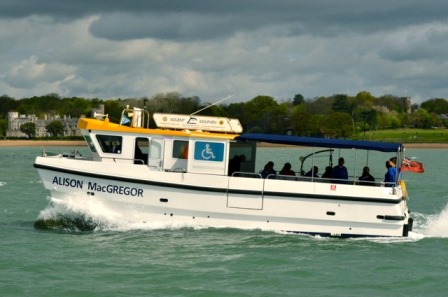 The Solent Dolphin, set up by the New Forest Rotary Club, has been granted the Queen's Award for Voluntary Service, which is the highest award given to local volunteer groups across the UK to recognise outstanding work done in their own communities.
The award, which was created in 2002 to celebrate the anniversary of the Queen's coronation, coincides with the charity's 25th anniversary and was awarded to just two charities in the Hampshire area during Volunteer Week.
The Solent Dolphin was set up to give people with disabilities the opportunity of going on trips out to sea at no cost and has helped over 60,000 people since it began.
The Charity's President,Rotarian Alan Blair MBE, comments: "Many local people have devoted great energy and goodwill and the reward has been to see the service grow beyond anything we could have imagined."
The boat is crewed and maintained by over 100 qualified and trained volunteers including 19 fully trained skippers who undergo annual refresher training to ensure safe operation of the boat, and no-one is paid.
Chairman Nigel Bassett said: "The Charity would never have reached its 25 years without the voluntary help and donations of time and money. So it is really special that this award has been granted as we celebrate our anniversary".
The charity is financially self-supporting through generous donations from many local organisations and benefactors, and it is envisaged that it will continue to provide this service for another 25 years. For further information visit: http://www.solentdolphin.co.uk/index.html
---
---
---
ON 11 JANUARY 2016 the award was brought to the Club dinner when we were treated to a talk and film about the award and the subsequent garden party at Buckingham Palace. Photo of the award is on the slide show, (Thanks Tony Roe). .