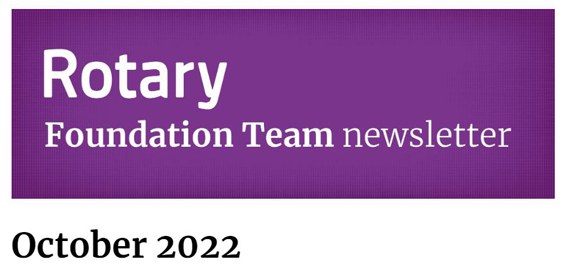 This month focuses on The Importance of Personal Giving, Ask the Rotary Foundation, Telling the Stories, Rotary Foundation at the Iceland Action Summit, Ukraine, Peace Fellows - Bradford Peace Conference and Polio.
The Rotary Foundation transforms your donations into service projects that change lives both close to home and around the world.
Nailsworth Rotary is honoured to have been presented with the End Polio Now Certificate of Appreciation 2019-2020 in recognition of the Club's outstanding contributions to the Rotary Foundation End Polio Countdown to History Campaign during 2019-2020. It is through these contributions that Rotary is able to continue its aim to eradicate Polio throughout the world. With Africa declared Polio-free earler this year there are only two countries in the world - Afghanistan and Pakistan - where Polio is still endemic.
We would like thank all of those individuals and organisations that have helped us - with your help, we can continue to make lives better in our community and around the world.
Why should I donate to The Rotary Foundation?
Your donation makes a difference to those who need our help most. More than 90 percent of donations go directly to supporting our service projects around the world.
How does The Rotary Foundation use donations?
Our 35,000 clubs carry out sustainable service projects that support our seven causes:
Peace and conflict prevention/resolution

Disease prevention and treatment

Water and sanitation

Maternal and child health

Basic education and literacy

Economic and community development

Environment
With donations like yours, we've wiped out 99.9 percent of all polio cases. Your donation also trains future peacemakers, supports clean water, and strengthens local economies.
What impact can one donation have?
It can save a life. A child can be protected from polio with as little as 60 cents. Our partners make your donation go even further. For every $1 Rotary commits to polio eradication, the Bill & Melinda Gates Foundation has committed $2. Please help us by donating to https://www.endpolio.org/donate