We were fortunate with the weather despite a doubtful forecast, having sunshine at the start and no rain until the race was over.
There was a full batch of new winners, which was good to see, though no records were broken. The mens' race was won by Ed Hyland of Stainland Lions in 55min 21 secs with Michael Joyeux of Darlington Quakers and Lee Bennet of Elswick Harriers close behind.
First Lady home was Becky Penty of Knavesmire Harriers in 61min 15 secs. 2nd was Lucy Collins and 3rd Hannah Phillips.
The Men's trophy was won by the London Frontrunners who put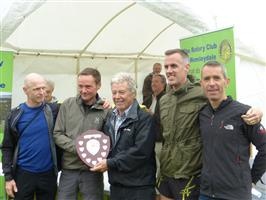 out a large and very strong team again.
The Ladies Trophy was won by Swaledale Road Runners, the local team who help us every year with timing.
The Mixed Team trophy was won by London Frontrunners.
Other Results in brief;
Men over 40; 1. Shaun Whelan, London Frontrunners; 2 Jonathan Moscrop, London Frontrunners.
Men over 50; 1 Mark Forrest, London Frontrunners; 2 Andy Todd, Nidd Valley Harriers
Men over 60; 1. Steve Morran, Northern Vets; 2. Mike Mckenna, Hallam Running Club
Ladies over 35; 1. Andrea Lancaster, Knavesmire Harriers; 2. Jacqeline Keavney, Swaledale Road Runners.
Ladies over 45; 1. Heather Halliday, Bedale & Aiskew Runners; 2. Lorraine Hiles, Thirsk & Sowerby Harriers.
Ladies over 55; 1. Lesley Fisher, Burnden Roadrunners; 2. Ruth Warren, Valley Striders
Jim Wight, son of James Herriot, presented the prizes. A big thank you to him and to Swaledale Road Runners who provided an even bigger team, led by Helen Inglis, to manage the finish and time-keeping in a very professional way.
Thank you to all the clubs and individuals who took part.We hope you enjoyed it and want to return! We will have raised around £2,700 for charities and local deserving causes.
Thank you also to Michael Rheinberg for photos taken at Gate 12 and David Spashett for photos on Black Hill and the presentations. I have loaded over 300 photos and had to overcome some technical hitches along the way so not all were successfully added. If you can't find one of you and think one of us took your photo, email me through the link below with your run number and final placing and I'll see if I can find it. The slideshow takes over 20 minutes to run so you may prefer to click on "Images" at the top to see pages of thumbnails.
Excellent photos taken by Vaal Wildlife Trail Runs taken around the route can be seen on the facebook page

Next year the race will again be run on the last Sunday of July, 31st July 2016.

For a full list of runners and finishing times, click on the following link;-

JAMES_HERRRIOT_COUNTRY_TRAIL_RUN_2015_RESULTS.pdf
Very many thanks to our sponsors- The Walking Shop, Leyburn;Dales View Holiday Homes; Deuter ; Scarpa ; Teva; Smartwool for providing prizes.