What we did in 2010/2011
A brief summary of our Rotary year ending 30/06/11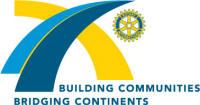 th
birthday, and Terry Williams became the 39
th
person to wear the President's chain, members recalled that it has met every week at Blunsdon House Hotel since 1966. The Hotel had just celebrated its 50
th
birthday by establishing a Jubilee Garden and planting an apple tree for each organisation that had been a long time supporter. And so it was in October, with a glass of Champagne in hand and the District Governor, Chris Fairhead, in attendance, members toasted the Club's own apple tree. John Clifford, the Hotel's MD, told those present that the tree is an old variety called "Reinette du Canada". He said: "the apples are sharp, long lasting, great keepers and make an enjoyable companion to wine and other alcoholic beverages." "Rather like Rotarians," he suggested.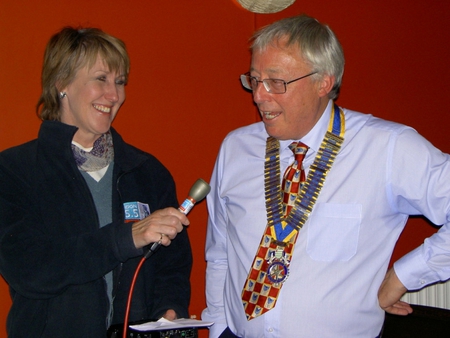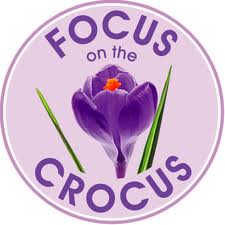 The produce of the soil cropped up again and again during the year. An Rotary GB&I initiative called Focus on the Crocus continued Rotary International's "$200 million challenge" to eradicate Polio. In the autumn, the Club bought several dozen crocus bulbs and distributed them to local primary schools, which, in return, raised funds for the Club when the crocuses bloomed in the spring. This brought in almost £500 and by means of the Quiz with a supper provided by the ladies of Inner Wheel the Club was able to send £1,700 to "End Polio Now".
Shirley Ludford of Swindon Community Radio interviews President Terry Williams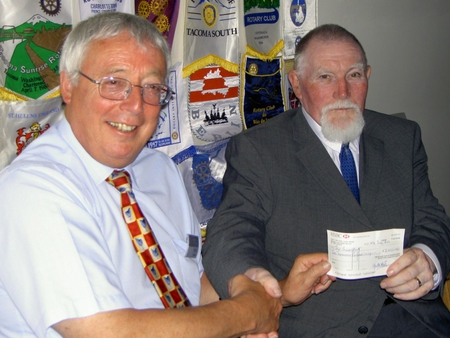 President Terry focused on Christmas trees in the winter and daffodils in the spring. He grew both in abundance and, supported by his wife Christine, sold some 50 trees and 12,000 daffodils to raise the magnificent sum of £1,200 for Action for Children and The Green Hut.
President Terry hands a cheque for £2,000 to Clive Hunt, the Project Manager of The Green Hut
The Club was successful in its first application for a District 1100 matching grant when it received £490 from District, half the amount necessary for funding 2 Shelterboxes. Another first was a 1940's Evening in Shrivenham's Memorial Hall, a fund-raising event billed as a dose of fun and nostalgia. An 18-piece band provided music and songs of the period, a "wartime supper" of shepherds pie and baked beans, apple pie and custard, was served, and all for £15. Not a 1940's price, as neither were the bar prices, but the princely sum of £1,400 was raised. People dressed 1940's style, as civvies, Home Guard, British and US military and so on.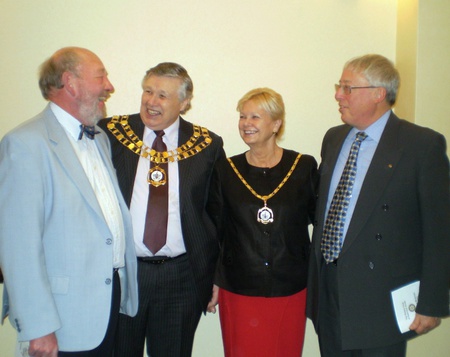 As well as the annual Young Musicians Competition Alan Fletcher also organised a Young Musicians Showcase at the Arts Centre, Swindon, featuring some of the 2009 and 2010 winners.
The adjudicator, Geoffrey Gleed, chatting with the Mayor of Swindon, Cllr Rex Barnett and the Mayoress, and President Terry at the 2011 Young Musicians Competition
The annual Charity Golf Day raised £2,865, the best for several years. As President Terry's year neared its end there was a fund-raising concert from Pegasus Brass Band in St Barnabas Church, Gorse Hill and finally a barbecue in President Terry and Christine's garden when Terry's excellent cooking skills demonstrated that he is indeed a man of many parts.
As the Club passed its 44