Welcome from our President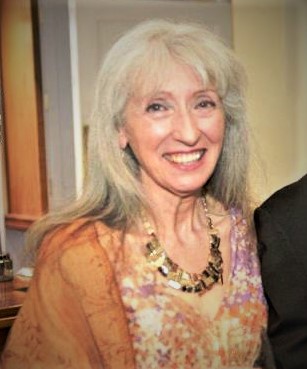 Our Rotary motto is "Service above self". This website and our social media sites, are full of news of our charitable and social activities.
Do you have time to spare? Do you want to use your skills and talents for the good of others? You would be very welcome to join us at one of our weekly lunches and learn more.
Please click on the Contact button ... we would like to hear from you.
Michele Odell
Rotary Beckenham
Click below for details of some of our club activities
_______________________________________________________________
Handover - 2020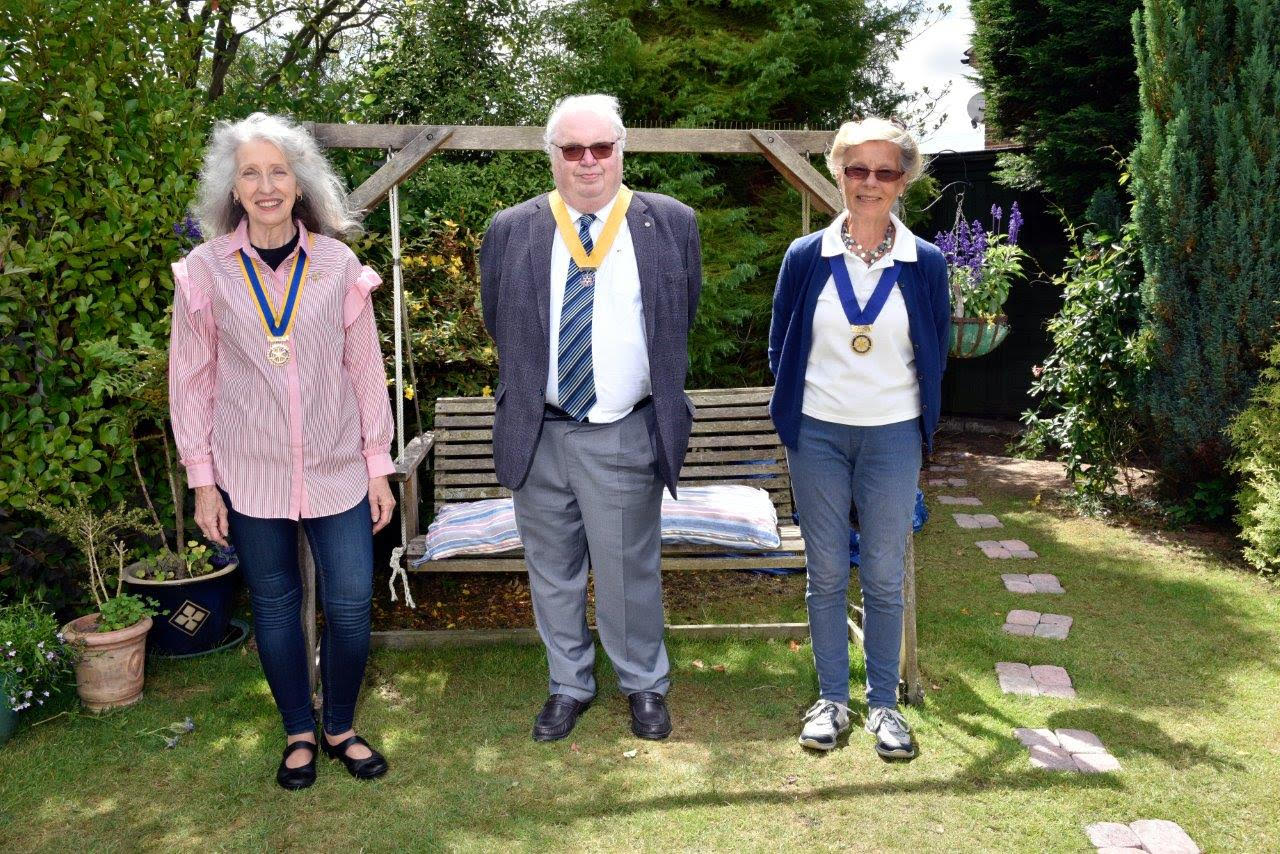 Our photo shows the virtual hand over of the Presidency for our new Rotary year starting 1st July.
Our new President is Michele Odell, pictured on the left, with our outgoing and now past President Dinah Scudder on the right and our new President elect, Brian Cooke, in the centre.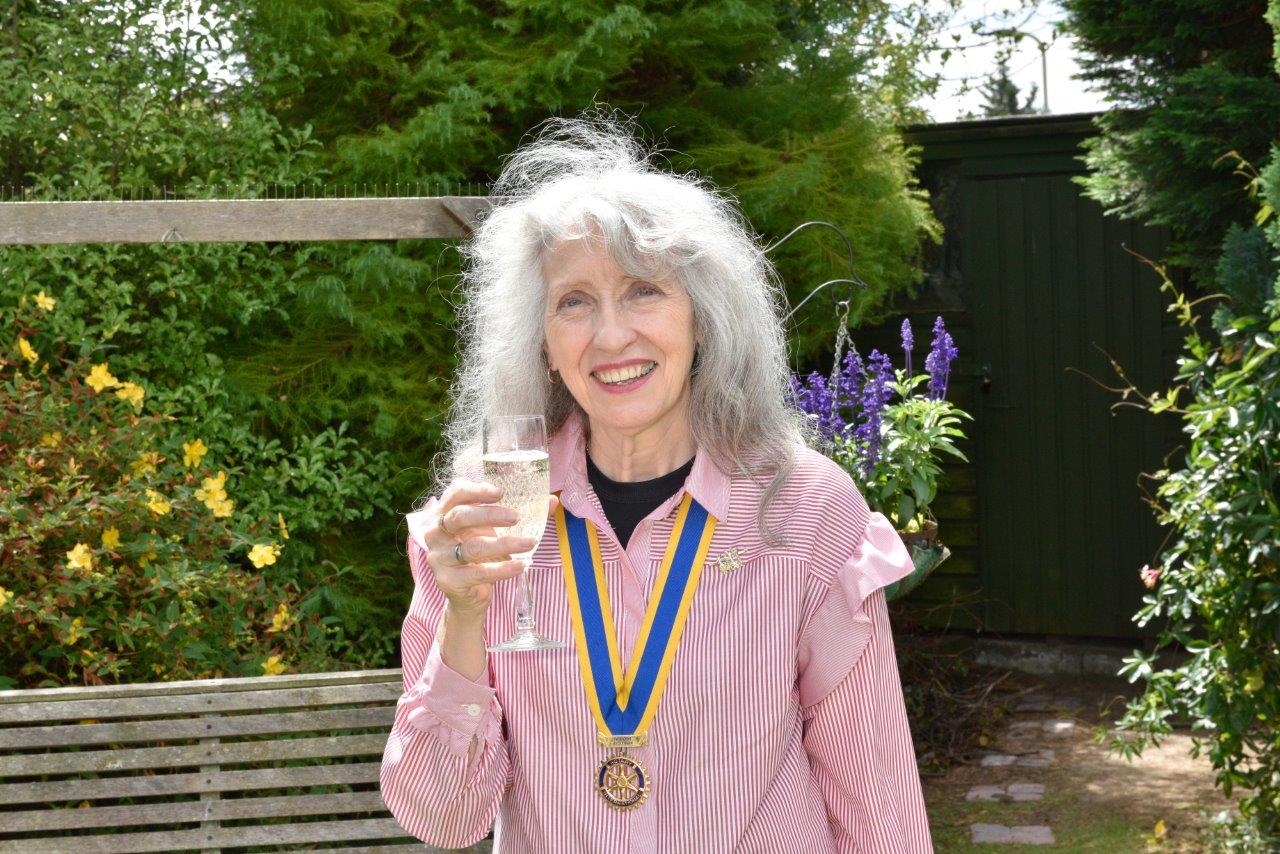 With best wishes to our new and all future Presidents for success in the coming years.
_________________________________________________________________________
9th July 2020
President Michele gave her inaugral address to the club at a Zoom meeting.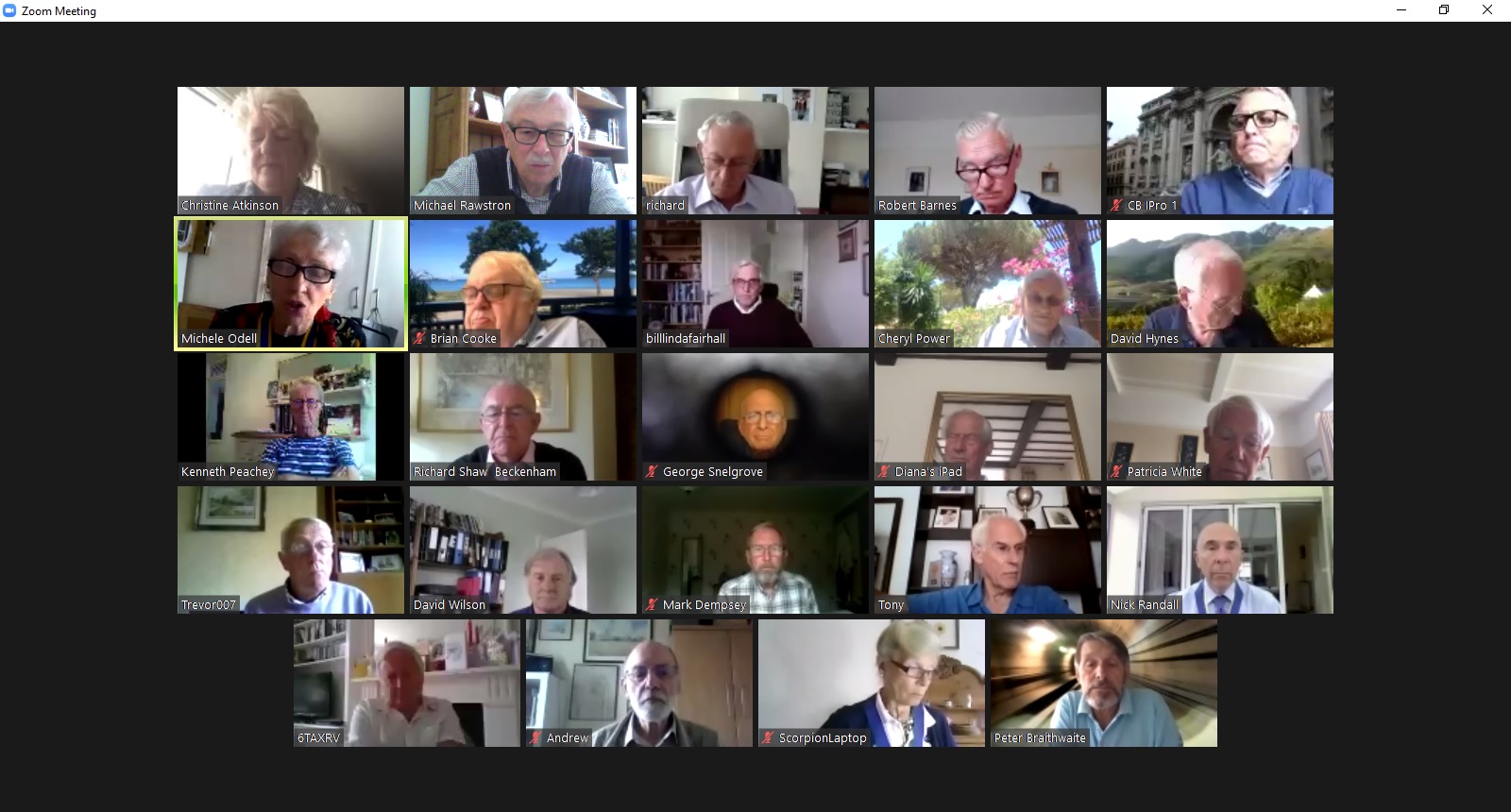 _____________________________________________
13th Aug 2020
President Michele chaired a club Zoom meeting at which visiting speaker Rtn. Colin Norgate gave an informative talk about the latest state of restrictions imposed by the pandemic.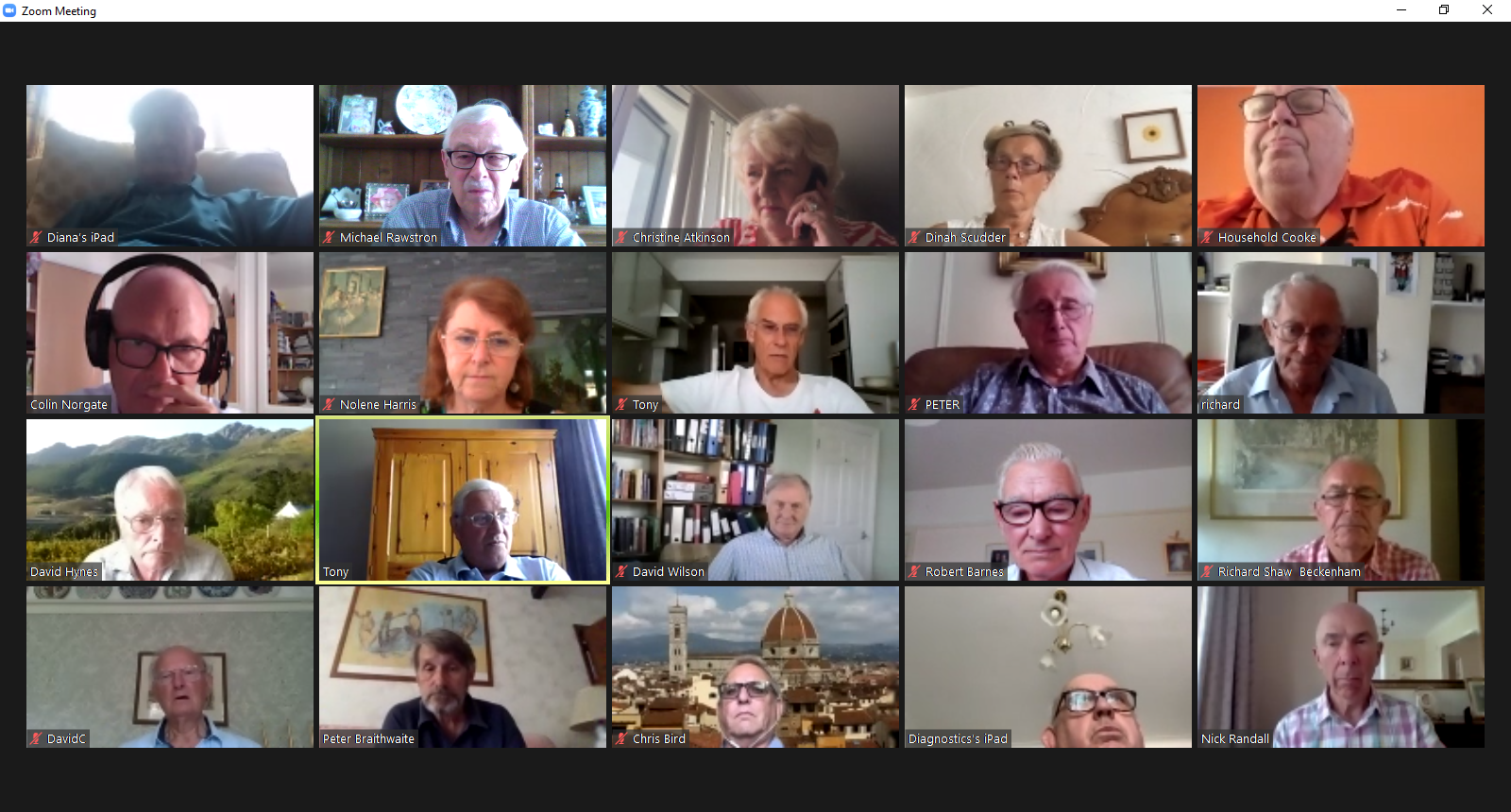 _______________________________________________________________________________
20th Aug 2020
President Michele chaired a club Zoom meeting at which Past President Rtn. John Walker gave an interesting talk about the club when he was a member and particularly during his Presidency in 1986/87. John is now a member of Rotary Poole, of which he is is also a Past President. We were also very pleased to welcome another Past President, Hon Rtn George Potier to the meeting. George's Presidency was in 1979/80.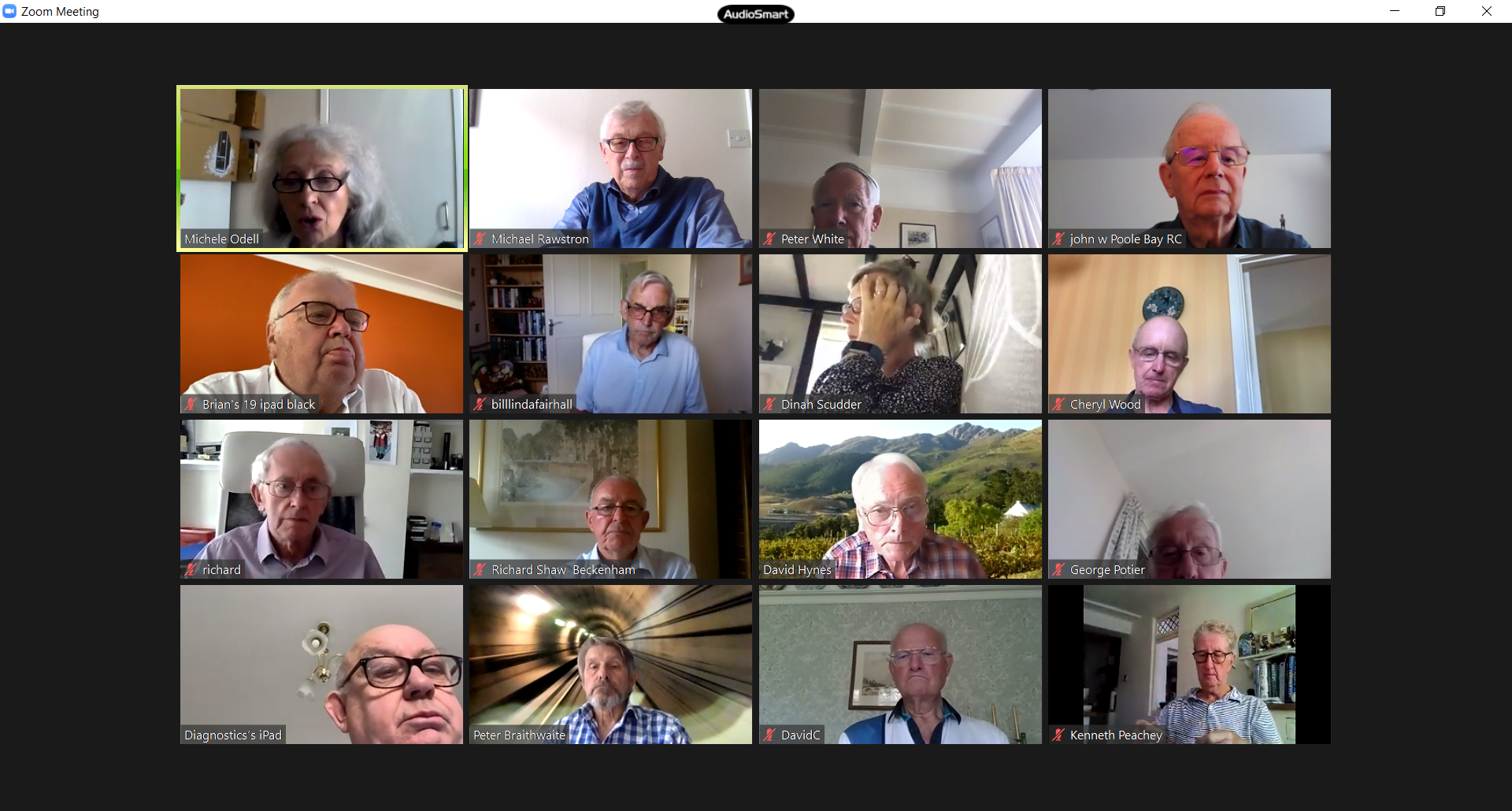 ______________________________________________
17th Sept 2020
It is traditional for Rotary Beckenham to invite the incumbent mayor to address the club at a real lunchtime meeting. This year it was not possible to invite the Mayor to join us for lunch but an invitation to join our meeting via zoom was kindly accepted.
The Mayor of Bromley, Councillor, Hannah Gray joined our meeting and addressed the club by saying that her mayoralty was unusual in that there is far less pomp than previously and, sadly little scope for charitable fundraising. She said she had been able to spend more time meeting the people of Bromley at their workplaces to thank them for all they have done and are doing during the coronavirus crisis. She also said she had visited food banks, funeral parlours, the bus depot, the recycling centre, schools and many other locations and she related some of the humorous, sad and uplifting stories she had heard.
The Mayor told the club she had been overwhelmed by the numbers who have volunteered to helpand is happy to meet as many as possible. Because of the lockdown, the Mayor has had little opportunity to raise money for her chosen charities, Chartwell Cancer Trust and Cystic Fibrosis Supporters. She will however, be launching a fantastic prize draw soon - to win the flight of a lifetime in a Spitfire! Tickets will cost just £10, for a prize worth £2,500. The draw will take place in May 2021.
We hope to invite Councillor Gray to join us for lunch as soon as we are able.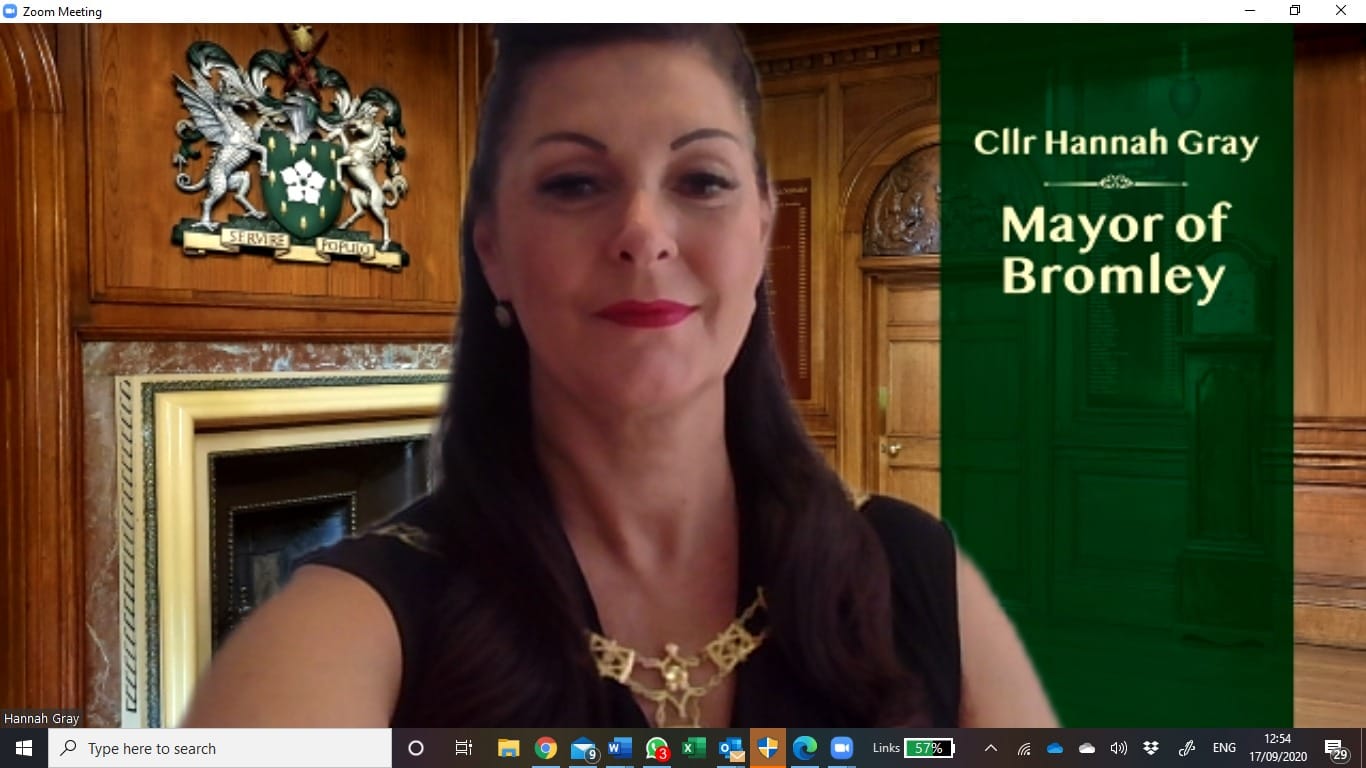 ___________________________________________________________
1st October 2020
Rotary Work Club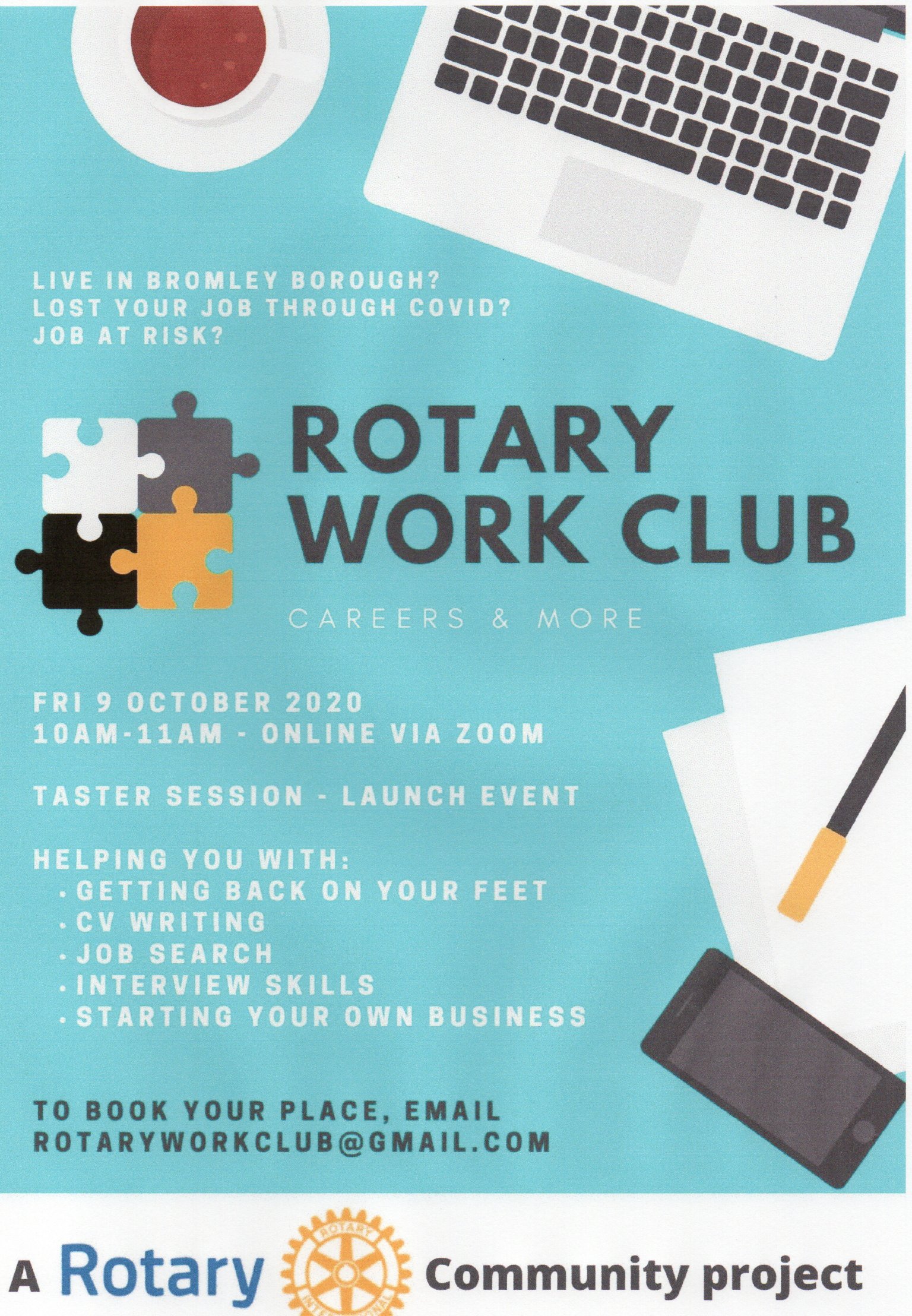 Local Rotary Clubs are to offer free new online learning opportunities to local people in the Borough of Bromley who are unemployed or who feel at risk of unemployment to learn useful skills to help them to gain new employment or to start a business.
For the latest Work Club timetable, please click HERE
________________________________________________
17th Dec 2020
We have now completed our Christmas collections for local childrens' charities anf thanks to the generosity of local Beckenham residents, raised about £8,000.00 and delivered over 50 food bags for the Living Well Appeal.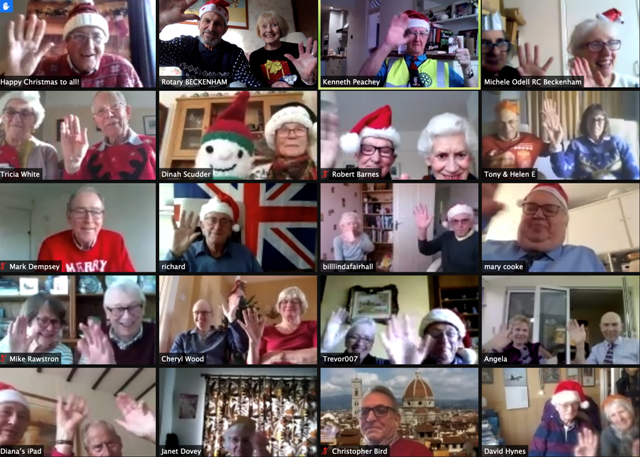 At our last club zoom meeting of the year, we enjoyed a game of charades and listened to some seasonal poetry, all in the festive spirit. Members congratulated our President Michele and past President Dinah, for their hard work and enthusiasm on behalf of the club during 2020, the most difficult year in recent memory.
______________________________________
21st January 2021
Rotarians volunteer as Covid Vaccination Centre Marshalls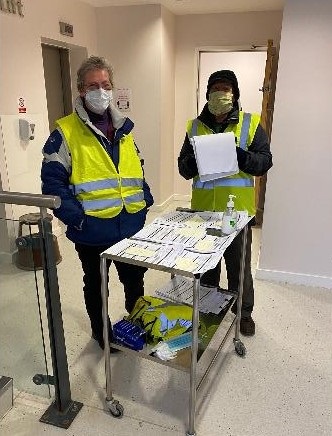 "at the end of a cold busy day"
Together with other local clubs, Rotary Beckenham is helping to support the local community by volunteering as Covid Marshalls at vaccination centres in the borough. Our picture above shows Rotary West Wickham husband and wife team, Keith & Rosemary.
Club members have marshalled members of the public attending the Beckenham Beacon for their vaccinations. Duties included guiding, reassuring, assisting and checking in and handing the information forms to those attending the centre.
We are expecting to assist in marshalling at other local vaccination centres in due course.
_____________________________________________________
11th March 2021
RIB&I and Carers UK Partnership
Carers UK provides a range of information and support for unpaid carers including,
● A Helpline and expert support service
● Advice on financial and practical matters related to caring
● A website with a varied range of information about specific aspects of caring
● Up to date COVID-19 guidance for carer
● Online meetup sessions with fellow carers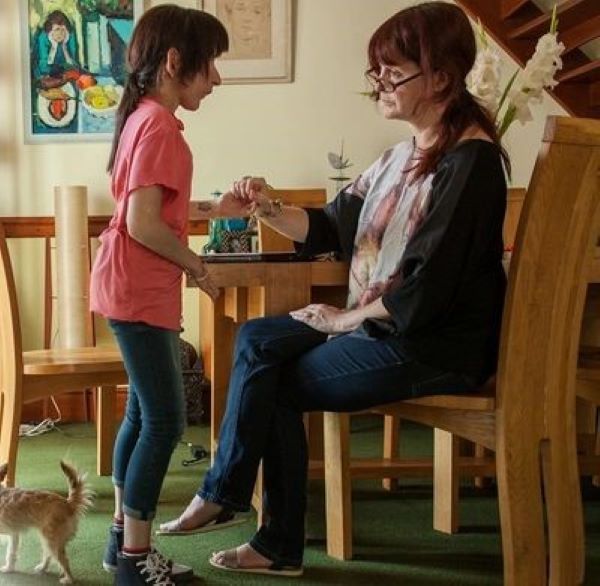 You can contact their helpline 0808 808 7777 Monday to Friday, 9am – 6pm or contact Carers UK at any time by email to: advice@carersuk.org
Alternatively, you can find guidance on their website HERE
If you are an unpaid carer or know someone who is please sign up or encourage the person you know to sign up to be a Carers UK member on their website HERE
Membership is free and it will provide a range of services, including access to the Carers UK Forum, where carers can ask questions and share their experience with fellow carers.
When signing the application, in response to "Where did you hear about joining Carers UK?" please tick the "Other" box and enter "Rotary" in the box below it. You will then receive your membership details which will allow you to log into the Carers UK Forum
If you know of local organisations that might help unpaid carers, please send their details by email to: rotarycarersukpartnership@gmail.com
April 2021 - For the latest information on Carers Uk, please click HERE
____________________________________________
23rd April 2021
The International Quiz was held on St Geaorges Day on Zoom and the theme of the questions posed by Quizmaster Rev. Bill Bowman reflected the date.Nine teams took part and attempted to answer the varied and sometimes difficult questions set.
The winning team were Copers Cope Champs and the runners up were the Baby Zoomers.The quiz was organized by President-elect Brian Cooke and hosted by Rotarian Peter Braithwaite.
The event raised over £400.00 for Médicins Sans Frontières and the Presidents Charity, BECOME. Thanks to everyone taking part who helped raise funds for two charities.
______________________________________________--