Riding for the Disabled
The Photograph, taken 19th March at Riding for the Disabled Magpie Centre. ,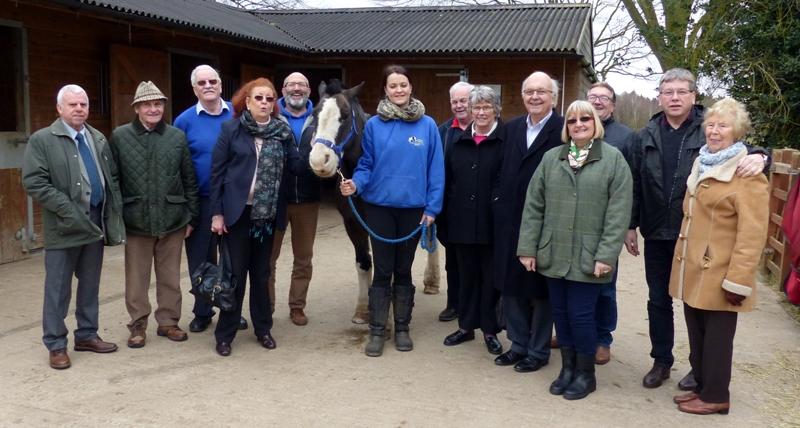 As part of his tour of Rotary Clubs in 1080 District, R.I.B.I. National President, Peter Davey and his wife Sandra,5 and 6 from the right, made a stop off at The Magpie Centre, Wesr Norfolk Headquarters of Riding for the Disabled, together with Rotarians from The Rotary Clubs of King's Lynn.
Buddy the bay, 14hh Irish Cob, ( the one in the middle of the picture) which was purchased last year with a donation from the Rotary Club of King's Lynn, seemed pleased to be the centre of attraction and Steve Chesney-Beales told of how the horse had settled in well and was in daily use as a riding pony at the Centre. Were welcomed by Steve Chesney-Beales, Chair, West Norfolk Riding for th Disabled Association who explained the work and aims of the Magpie Centre and conducted a tour of the facilities.
The Magpie centre has regularly benefitted from support from the Rotary Clubs in the West Norfolk area and Keith Boyce President of the Rotary Club of King's Lynn commented, Our club regularly monitors the needs of the Magpie Centre and many other charties national and local to identify ways in which we can give them ongoing support.We are conviniced that the centre's work is of trememdous benifit to people of all ages and with a wide range of physical and learning disabilities