Medical Detection Dogs
A dog has anything up to 10,000 times more olfactory receptors than us humans and can distinguish the minutest of differences in smell. Their use in airports is well known for detecting explosives and for searching for missing persons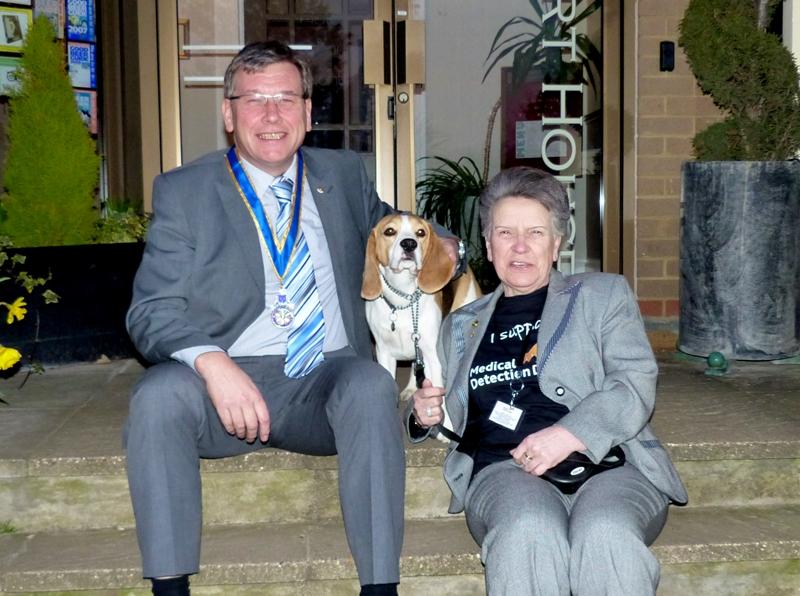 The photograph taken on the steps of the Stuart House Hotel - Keith Boyce, President of the Rotary Club of King's Lynn - Harry the Beagle - Rotarian Norma Howell of the Medical Detection Dogs Charity.
One tends to laugh when we see dogs sniffing one another, but what few people realise is that a dog can tel a great deal more than humans when using their noses
A dog has anything up to 10,000 times more olfactory receptors than us humans and can distinguish the minutest of differences in smell. Their use in airports is well known for detecting explosives and for searching for missing persons in earthquake or similar disasters.
We now take this for granted, but it has only recently been recognised that dogs can diagnose cancer and similar fatal diseases, by smell and can even tell a diabetic person if they are nearing a hyperglycemia attack and this is particuarly important for young diabetic suffers engaged in sport.
Training a dog to recognise and react to a particular odour has become highly developed and is being researched and actively used in clinical conditions to obtain early diagnosis of a number of diseases. However none of the cost of training is covered by th NHS and the charity Medical Detection Dogs is in the forefront of recruiting volunteers, selecting suitabl dogs and placing them in situations where they are needed.
The Rotary Club of King's Lynn received a talk by Rotarian Norma Howell from the Rotary Club of Diss, with her Rotarian husband Rodney operating the computerised presentation. Several Rotarian's partners attended the meeting to learn more about the charity and its work. Norma was thanked and presented with a donation by President Keith Boyce and Rotarians further contributed to a collection box which was passed around.
To a dog, all of this comes naturally and channeling its talents becomes just a game,but to us humans, it could be life saving.