20 Rotarians and inner Wheel members from Aireborough recently learned how to use Facebook and Twitter with a social media session at Leeds Trinity University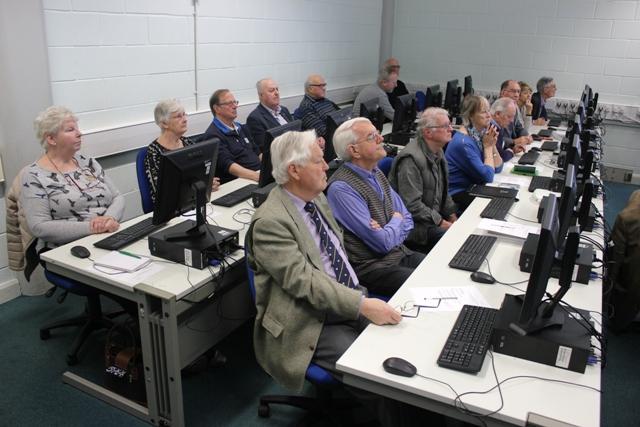 Show related pages
The two hour session was delivered on campus by Leeds Trinity University Magazine Journalism student Laura Bull who has been helping the Rotary Club to use social media since January this year as part of her final year Professional Learning through Work module.
Tony Scaife, Club President said ' the session went very well and all participants had great fun whilst learning a lot. The university has been very generous in allowing us to use their facilities and do more of the 'hands on' training that is essential in acquiring new I.T. skills'.
Supporting its members with social media trining is just one of the ways Leeds Trinity and the Aireborough Club are working together since the University became a corporate member of the Rotary Club last year.
As well as utilising campus facilities, members of the Rotary Club regularly attend the Leeds Trinity Business Network - an informal and free network on campus that gives local businesses an opportunity to make connections, raise their profile and learn something.
Another joint intiative will be the Club's annual Sponsored Charity Walk on Saturday 14 May. This will take place in the grounds of Leeds Trinity and around Horsforth. There are more extensive details elsewhere on the website.
This walk has been a popular Club event for many years and has helped to raise valuable funds in that time. Now with the University's help we are trying out a more accessible venue and routes to attract even more walkers. A major feature is that all those who walk get to keep the full amount of their sponsorship for charities of their choice. Because of this we hope that more young people, youth groups and community groups will be encouraged to use the walk to meet their own specific needs.