19th Annual Charity Golf Day: 20 May 2016
In association with the Mayor of Truro, this year's charities were Emmaus Cornwall (chosen by the Mayor) and CHICKS (respite holidays for disadvantaged children). As usual there were many prizes to play for, a "superdraw", and a tombola.
Another great success!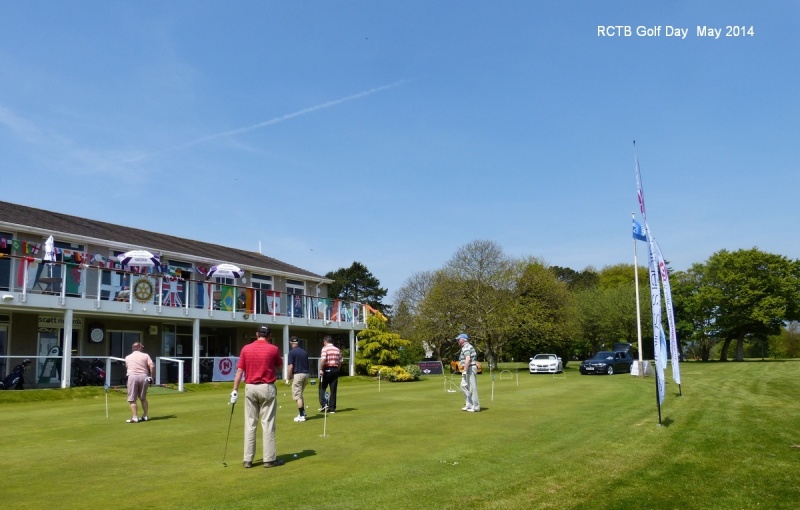 37 teams of four took part in this event, the most successful of our Golf Days so far, raising £5,500 in all.
Cheques for £1,500 each were presented to Cllr Lorrie Eathorne-Gibbins (Mayor of Truro 2015-2016) for her charity ( Emmaus Cornwall), and to Mick Ryan of CHICKS (Country Holidays for Inner City Kids). The balance will be held in the Rotary Club's Trust Fund.
Ocean BMW Falmouth were the main sponsor once again, with the Ocean BMW trophy being presented to the winning team from Scott Burridge Commercial with a score of 90 Stableford points (picture below).

Exceptionally generous financial help also came from Barclays Bank plc, who match-funded the proceeds of the tombola and "super draw", each of which raised £500.
The Club is most grateful not only to the principal sponsors but also to all the companies, other supporters, and Club members, who sponsored holes, donated prizes, sold raffle tickets, and generally helped to produce such an outstanding result.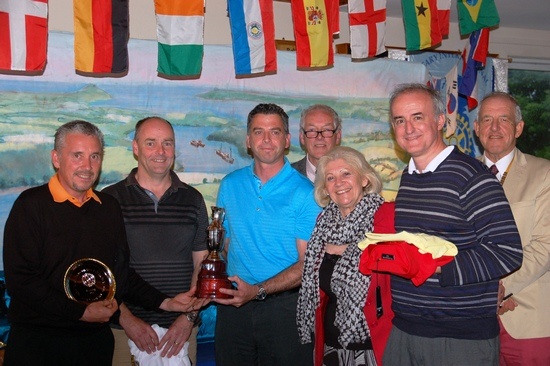 The winning team from Scott Burridge Commercial (Carl Jenkin, David Ellis, Mark Jago, and Adam Fry) with the Ocean BMW Trophy and the Mayor of Truro (2015-2016) Mrs Lorrie Eathorne-Gibbins.

Organiser for the Rotary Club, Peter Bayly, and President Bob Sturland are in the back row
In second place with 86 points were Keith West and Friends (John Doyle, Chris Stable and Colin Honey), and in third place with 85 points were Stephen Payne Planning (Stephen Payne, David Corsellis, Jack Corsellis and Shane Cooper).

The Ladies Trophy was won by The Yiamas - Ann Moyle, Michelle Cowls, Vicki Stevenson and Kathy Bennett.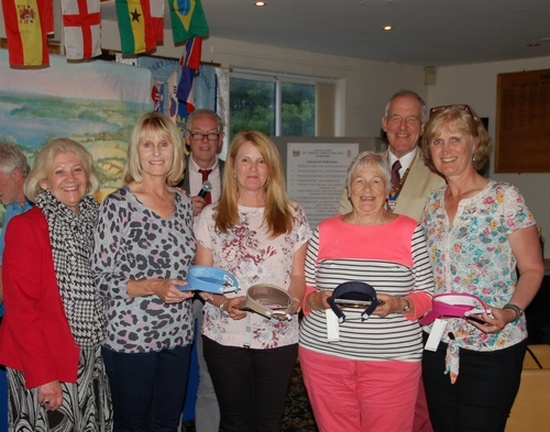 The Mayor, Kathy Bennett, Michele Cowls, Ann Moyle, and Vicki Stevenson
The best Visitors' Team was Cober Valley Rotary Club (George Curnow, Rachel Curnow, Ian Munday and Jo Munday) and the best Seniors' Team was Lions Tail Twisters of Peter Read, Alan Downie, Alan Chick and Roger Winchester.
The prize for the best score with the "yellow ball" (a parallel competition) was won by the Truro Golf Club President's Team, Steve and Gail Davis, and Bev and Ray Horton.
For more pictures of the day, please see the associated slideshow.
We look forward to the 20th Golf Day next year on Friday 26 May 2017.