Exchange 2004 - Schouwen-Duiveland to Esk Valley
A group of twenty-one Dutch Rotarians recently visited Midlothian in June 2004, as part of a friendship agreement set up between the Rotary Club of Esk Valley and that of Schouwen-Duiveland.
As part of the visit, the visitors were invited to an evening at Dalkeith Palace. The evening started with a highly interesting tour of the Palace conducted by John Flynn, husband of Wisconsin University Resident Director at Dalkeith Palace, Mary Flynn, who explained that the building had a strong Dutch link. In 1701 architect James Smith used William of Orange's palace in Holland as a model for the palace at Dalkeith. The Palace was later described as "the grandest of all early classical houses in Scotland".

Following the tour, the guests were piped into the Dining Room where a superb meal, prepared by the Palace resident chef, was served. The main course included a taste of haggis for the foreign guests, which was much appreciated.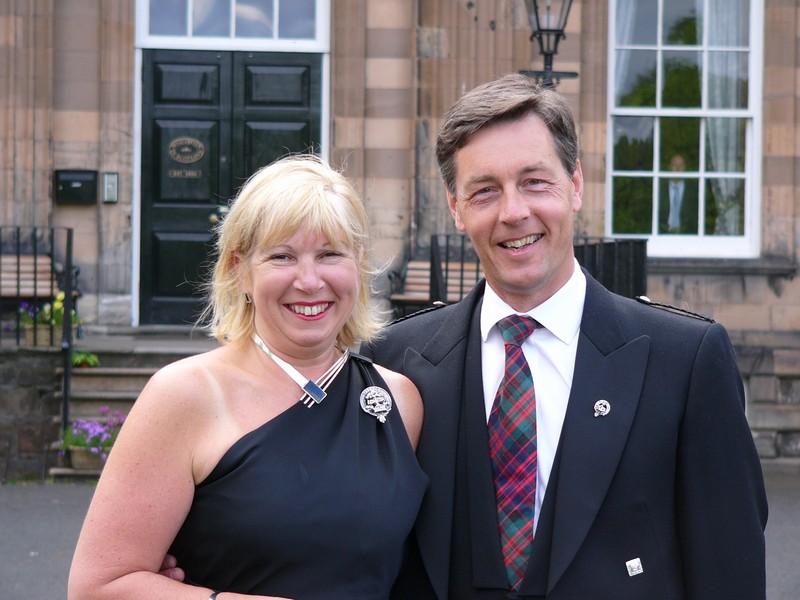 Following the meal, a whisky tasting was organised to allow the guests to sample a range of malt whiskies from all over Scotland. All the main whisky-producing areas were represented, but a Highland Park 12 year Old Malt from Orkney appeared, on the night, to be the favourite. The tasting was followed by Scottish Country Dancing that the guests joined in with, and finally by the singing of some well-known Scottish songs. This prompted the Dutch contingent to reciprocate by singing some well-known Dutch songs!!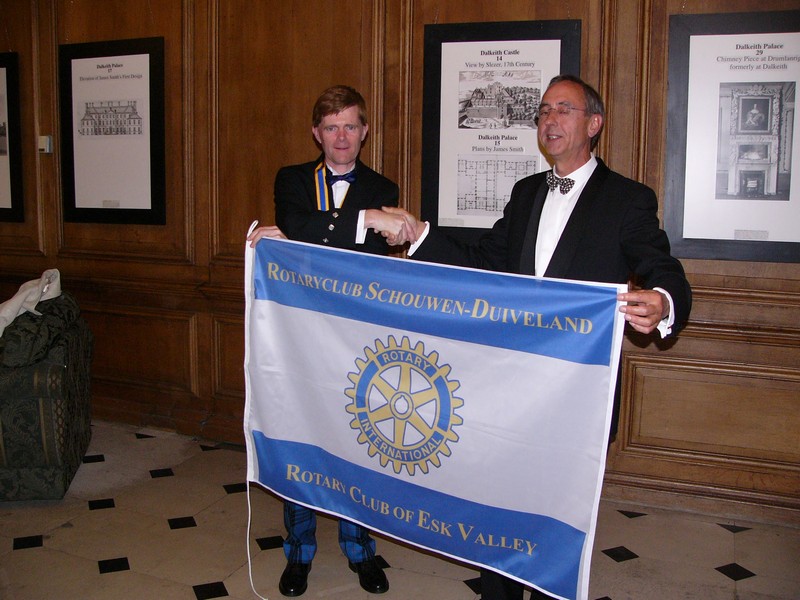 "The whole visit went extremely well," says Gordon Young, the member of Esk Valley Rotary who is responsible for organising the exchange "with everyone having a very enjoyable time. The evening at Dalkeith Palace was a particular high point, and we are very grateful to Mary Flynn and the University of Wisconsin for allowing us to make use of their facilities.
The Schouwen-Duiveland Club is an ideal partner for us, as their size and membership area is very similar in scale to ours. They are also, like us, a new club so we are hoping that through the friendship link we will be able to achieve many things in the future".
A reciprocal visit to the Netherlands involving Esk Valley members is being organised for spring-time next year. In addition it is hoped that the two clubs will jointly sponsor visits by students from both countries, to allow them to learn how their respective counterparts live and work.
The Dutch club is based on the island of Schouwen-Duiveland, which is located in the south-west corner of the Netherlands. This part of the country is called Zeeland and is a river delta where 3 European rivers (among them the Rhine) come together. The island has a population of about 30,000 people, with about 10,000 of them living in the main town of Zierikzee, and is linked to the mainland by causeways. The nearest large city is Rotterdam.