Nepal Disaster

On hearing of the appaling effects of the earthquake in Nepal our Club swung into action to provide aid. Thanks to a great idea from President John, we opened a page on the 'JustGiving' website through which members of the public could make online donations to our appeal. The proceeds of this appeal will help purchase Shelter Boxes which provide the necessary equipment to provide shelter for a family of 10. Each box costs £590 and our initial aim was to rasie sufficient to purcase a single box. To date however, we have raised over £2,300 which, with a top-up from Rotary funds and the addition of Gift Aid, amounts to £2,950 - enough for five boxes. We'd like to thank everyone who has helped make this possible including many individul Callander residents, a Callander Kirk Group, the Crown Hotel and the Waverley Hotel. It is still possible to make a donation and if you'd like to do so you can go online to our 'Just Giving' page.

Coffee Morning - Saturday 2nd May 2015
We held our annual Coffee Morning in the Kirk Hall on Saturday 2nd May. Although not as well tended as in previous years, the day nevertheless raised over £400 for Rotary's own Foundation charity. As well as tea, cofee and scrumptious cakes, there were a variety of stalls and musical entertainment was provided by Rotarian Brian McKay. The event was also successful in aiding our Cl
ub's efforts in raising money to finance the purchase of Shelter Boxes to help in the disaster relief effort in Nepal. Thanks to the genoristy of Callander residents we raised over £300 on the day for this worthy effort. (See above for more information on Shelter Boxes for Nepal.) from 10 pm.

Bottle Stall - Saturday 4th April 2015
The sun shone down on Rotarians, residents and visitors alike on a busy Easter Saturday and thanks to the genorosity of all those that took part, the Club raised over £750 for charitable/good causes. Thank you everyone who took part.
Callander Litter Pick - 28th March 2015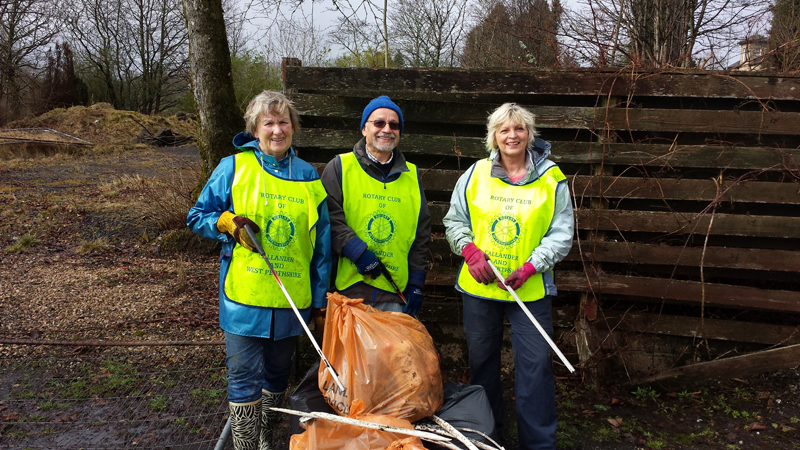 Three intrepid Rotarians helped with the Callander Litter Pick this year. The three we
re Jen Shearer and Jan Clark from Callander Rotary and helping out, as he so often does, was Stirling Rotary President Elect, Peter Mehta.


SWIMATHON - Saturday 14th March 2015 - McLaren Leisure Centre
The second event of busy week was our inaugural Swimathon, held in the McLaren Leisure Centre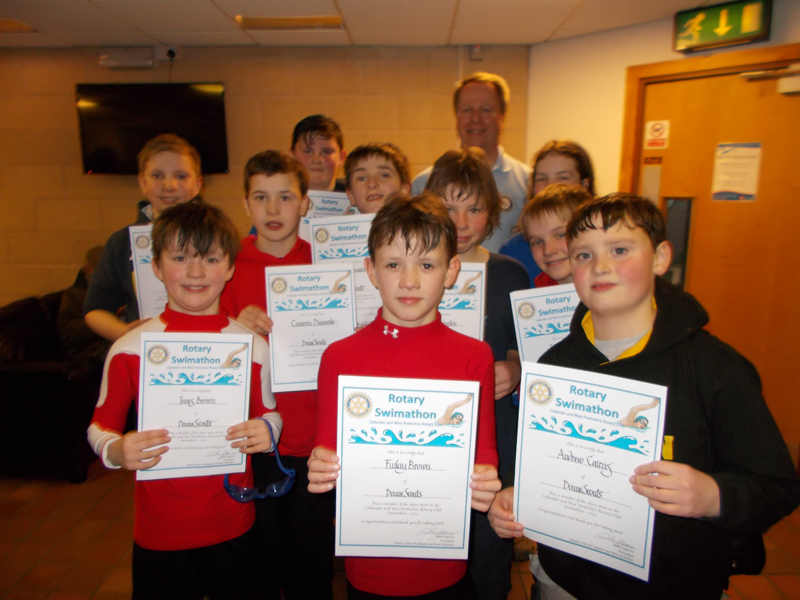 pool. This saw teams competing to see how many lengths they could swim, in relay format, in 30 minutes. The team from McLaren Rugby Club achieved an amazing 103 lengths, with Doune Scouts (see picture) and Team Robbex not far behind. As each of the team members had raised sponsorship for their favourite causes, this event contributed a good amount for local charities and organisations. At the time of posting this report, the final total is still being calculated, but looks set to be around 500. The Club is certain that this will now become an annual event, and we look forward to welcoming many more teams of swimmers next year.
Primary School Quiz - 12th March 2015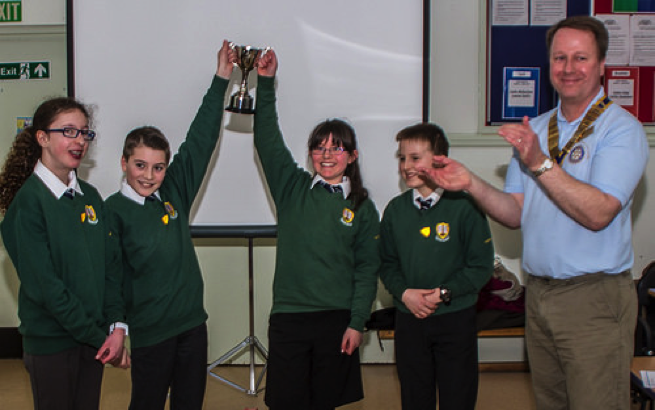 Following the successful introduction of this event last year, we ran an even bigger event in March this year. Nine local schools took
part in this local round of this national competition. All of the schoold did very well and the winners were Doune Primary School. Second and third were Thornhill Primary and Callander Primary Teamm 2, respectively./
To read the full report, click here
Bag Packing - 30th and 31st December 2014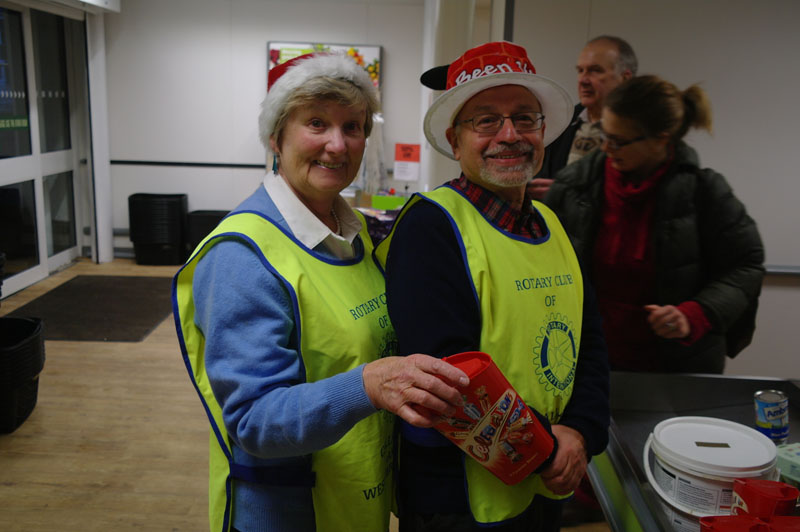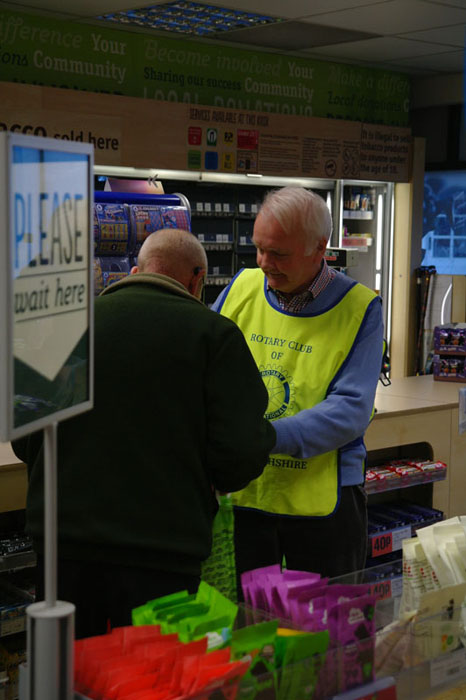 Once again a team of Rotarians and 'Friends of Rotary' turned up at the Co-op to help customers pack their bags (whether they liked it or not). As ever the banter was good and the genorosity of the Callander community was great. All in all, we raised nearly 700 for our Charity Fund. These funds will be used over the course of the year to
help good causes locally, nationally and internationally.
CHILDREN IN NEED - 14th to 16th November 2014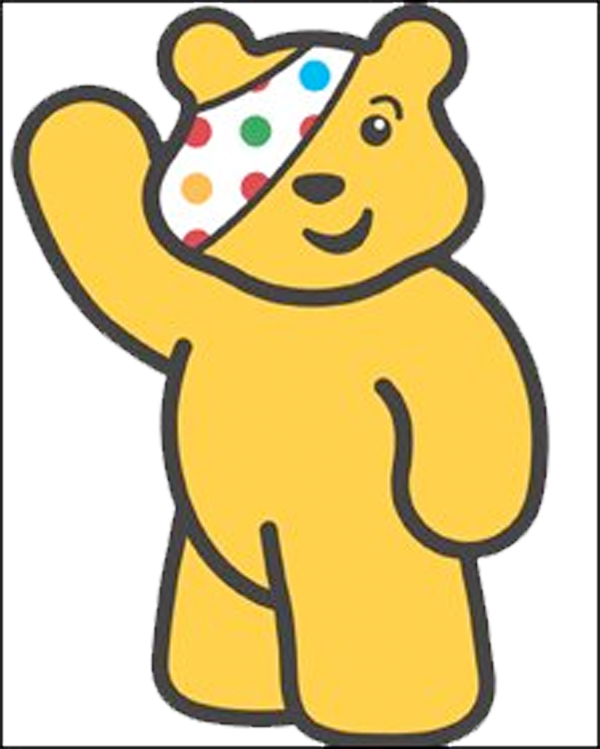 We brought Pudsey to Callander during Children in Need weekend and what a busy bear he was.. During Friday daytime, along with his Rotary helpers, he visited 9 primary schools, Mclaren High School and Callander Youth Project. Then in the evening he called in at many of the pubs and restaurants in and around Callander, collecting money. Needless to say Pudsey remained teetotal all night, but managed to collect a fair amount.
On Saturday, it was off to the McLaren Leisue Centre, where he helped the MLC staff to entertain the kids during their 'Super Heroes' event. Then, to round off the weekend, Pudsey clambered aboard the Walter Scott at Loch Katrine to take part in the Pudsey Cruise arranged by the good folks at the Loch Katrine Experience.
We're still counting up the money we raised and will report the amount just as soon as it's all come in. A big thank you to all the organisations who helped arrange the weekend and of course to resid
ents and visitors who contributed to our collections!
Click here to view loads of photos of the weekend.
Bottle Stall

- Saturday 4th October 2014

We held our Bottle Stall right in the middle of the Callander Jazz Festival and, unusually, surrounded by market stalls that suddenly appeared in the Square that weekend. As usual Callander residents and visitors alike gave us good support and helped us raise nearly 600 for our Charity Account.
Callander River Festival - 17th August 2014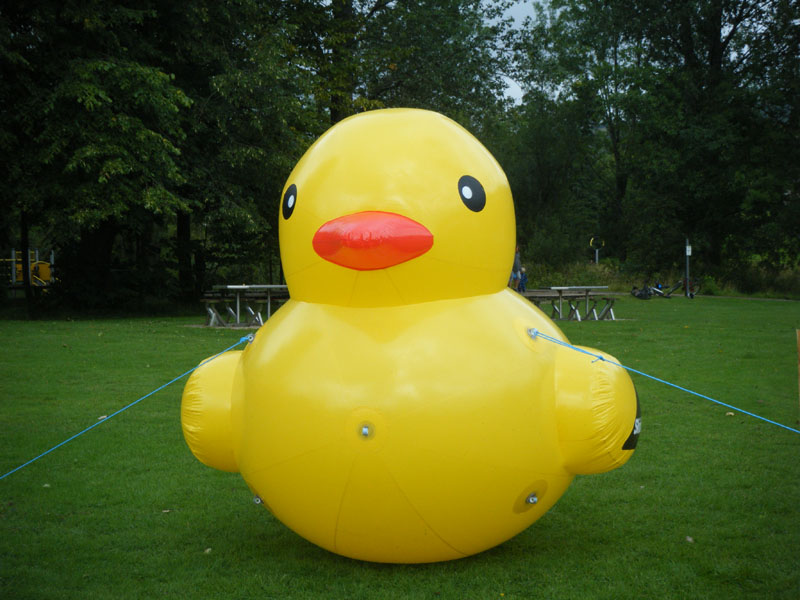 A number of Rotarians helped out at the Callander River Festival. The day consisted of a Duck Race, a Raft Competition and many other activities. Rotarians sold Ducks, judged competitions and ensured nobody fell into the river. This could be the first of many of these Festivals and Callander and West Perthshire Rotary Club looks forward to be
ing involved again.
Children's Challenge - July 2014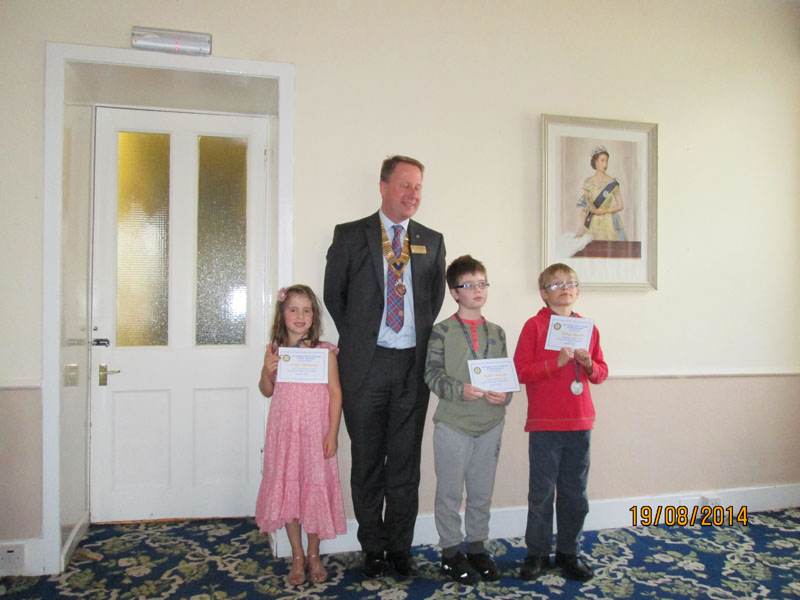 Throughout July 2014, we ran a 'Locate The Logo' competition in conjunction with many of Callander's shops and restaurants. The famous Rotary Roundel (or logo) was hidden somewhere in the windows of many of these businesses throughout July. The competition was open to children aged 5 to 12 and all they had to do was list all the shops and restaurants in which they'd spotted the Roundel. In case there was a tie, children were asked to tell us, in no more than 50 words, 'What Rotary is ....'. 35 children entered and many of them identified a hig
h percentage of the shops and restaurants in which the logos were located. The winner, with 23 logos discovered, was 10 year old Robert Rawson; in 2nd place was Finlay Murphy (also 10)and 3rd was Emily Thomson (aged 7). All three attended a recent meeting of the club and were presented with their Amazon Voucher prizes by Club President John Isgrove and all three read out their tiebreaker answers in front of all the Rotary members in attendance and they did so with great confidence. Click here to view more photos of their presentation and to read their tie-breaker answers.
We'd like to express our thanks to all of the businesses that took part and especially to Kokosnoot and Callander Library for helping with distribution of Entry Forms.
Charity Golf Day - Friday 1st August 2014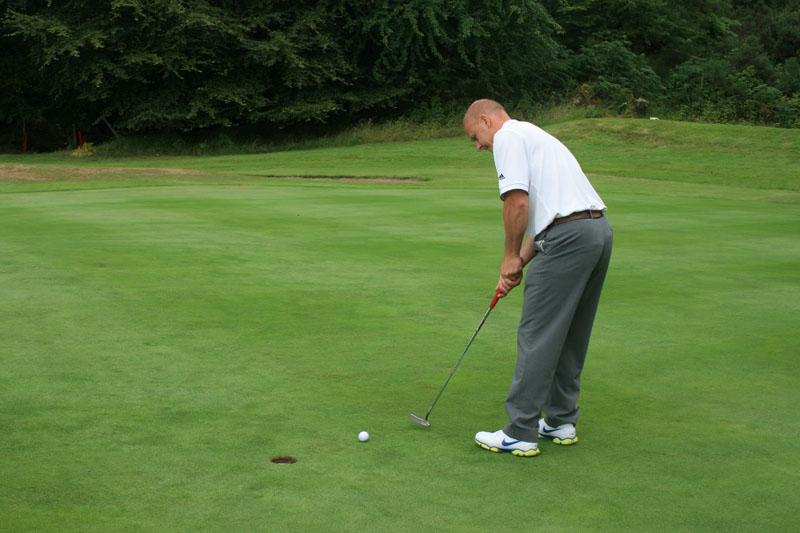 Well, as ever, the sun shone down on us as we held our annual Am-Am Charity Golf Day. 68 teams entered this year and thanks to the genoristy of many local businesses and our Main Sponsor, Clydesdale Bank, it lloks as though we will have raised approximately 3000 to divide equally between our thre chosen charities - Camphill Blair Drummond, Nicola Jones Appeal and the Gamboura Water Project in Cameroon - as well s our own Charity Fund.
Click here to see a few more photos of the day.