The Ben Ledi Walk - Sunday 5th June 2016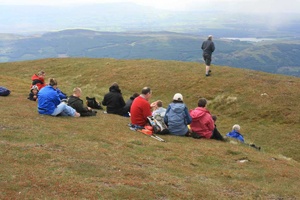 This year's Ben Ledi Walk was held in glorious weather, with a good number of walkers taking part and raising sponsorship money for their favoured causes/charities. Individual members of the Killin Mountain Rescue Team were in attendance helpin make sure evryone got up and down safely and we'd like to thank them for all their help. We'd alos like to thank Dickson Middleton for sponsoring the all important Portaloos at the registration area.


Coffee, Lunch and Crafts - 30th April 2016
Wow! What a successful event. We decided this year to change the format from just a Coffee Morning to an event that also provided a light lunch option as well as a variety of crafts based stalls. It's always dangerous to mess with tradition; after all Coffee Mornings take place in the Kirk Hall mosr Saturdays and all tend to follow a very similar format. However, the folk of Callander and visitors showed they were up for something different and came out in much increased numbers. The upshot was that we raised twice as much for charities and causes than we did last year. So a big thank you to all who visited us and congratulations to Rotarian Ken Stewart and his team for having the courage to do something new.
Bottle Stall - Friday 25th March 2016 - Ancaster Square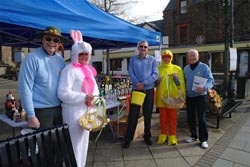 It was Easter, so it had to be the Rotary Bottle Stall. This year we held it on Good Friday and in addition to the opportunity to win bottles of various sizes and contents, there was an Easter Bunny/Easter Egg sand tray giving the opportunity to win cash prizes. Visitors and residents alike took part and gave generously.
Click here to see a few more pictures of the event.
Primary School Quiz - 10th March 2016
We held our 3rd annual Primary School Quiz at Callander Primary on 10th March. A record 12 teams were entered from Primary schools around our area. The standard was extremely high with no fewer than 9 teams gaining scores higher than last year's winning school. Callander Primary entered two teams and they did themselves proud by finishing a close second and third. However, this year's honours went to Port of Menteith Primary school who scored 108 out of a possible 120 points. Well done tomembers of the winning team - Heather Riach, Kitty Messer, Naomi Johnson, Joe Lazzell and first reserve Caden McNeill-Ritchie.
Swimathon - 20th February 2016
The Club held its annual SWIMATHON at the McLaren Leisure Centre. This fun event provides an opportunity for local youth groups and other organisations to raise funds for their chosen charities. Each team has to swim as many lengths as possible, in relay, in 30 minutes. Pictured are 3 of the teams which participated –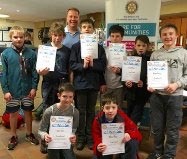 Doune Scouts, whose two teams swam 67 and 82 lengths respectively, raising a total of £175;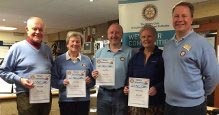 The Rotary Seals – a team of our own Club members - who (despite their combined age of 279 years!) completed 71 lengths in 30 minutes, raising more than £120 - with more pledges still coming in;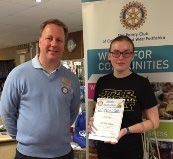 and a solo entrant, Niamh King, who bravely swam an amazing total of 61 lengths, all on her own, to raise £90 towards the costs of her forthcoming 2017 World Challenge trip to Malaysia. Well done to all participants, and a special pat on the back to Niamh for her fantastic solo effort!
Bottle Stall - Saturday 3rd October 2015
Our latest Bottle Stall, held on the Saturday of the Jazz Festival, was a great success. Thanks to Callander residents and visitors, we raised nearly £500 for charity. Thank you all for taking part.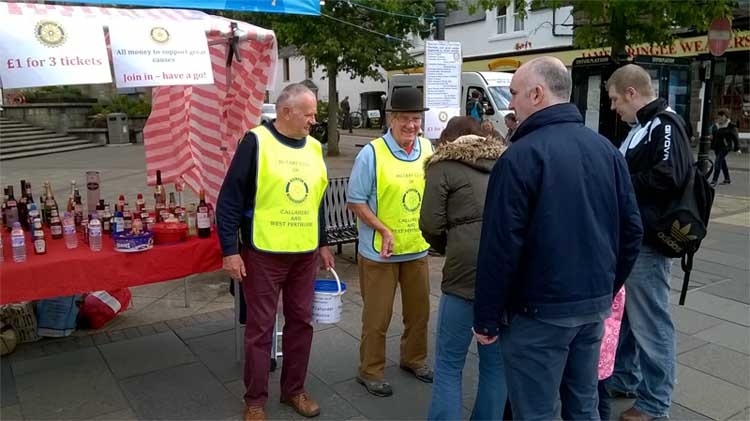 Railway Festival - 25th to 27th September 2015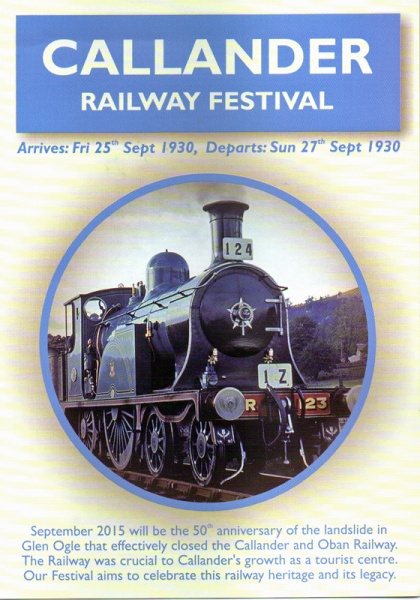 Rotary members were out in force at the weekend to supoort the Railway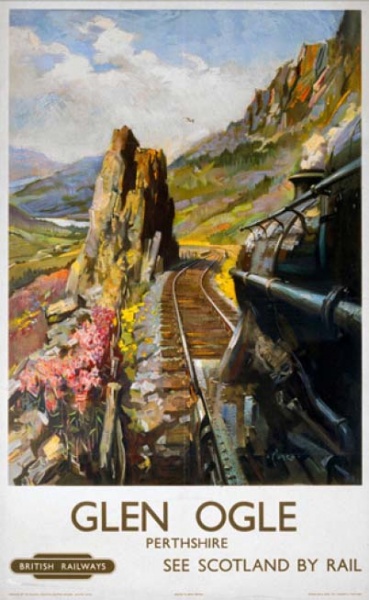 Festival which commerated the 50th anniversary of the closing of the railway in Callander. The Callander & Oban railway line was closed following the landslide in Glenogle 50 years ago.
The Festival owed its existence to the vision and organisation of local
Loch Lomond and Trossachs National Park
Board Member, David Warnock. It's early days to know what level of success it enjoyed, but certainly we in Rotary had many visitors to our stall and taking part in our 'Railway Treasure Map' competition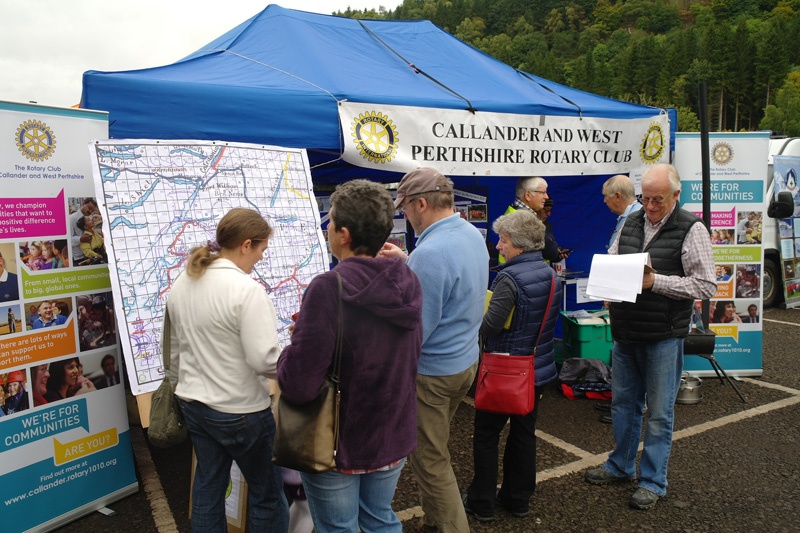 and many of these visitors told us they had come to Callander especially for the Festival.




Quiz Night - Friday 25th September 2015 - The Waverley Hotel
On Friday 25th September we held a Quiz Night at The Waverley Hotel in Callander. 11 teams of 4 took part in a sociable evening of fun and brain-teasing, with a prize for the winning team.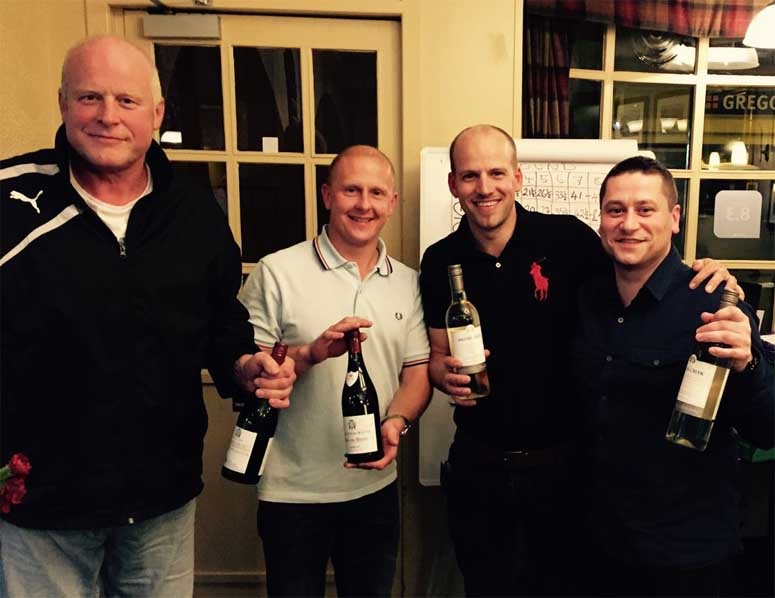 The winners were 'The Four Tops (pictured right), while the 'wooden spooners' were the IBIS Boys' (pictured below).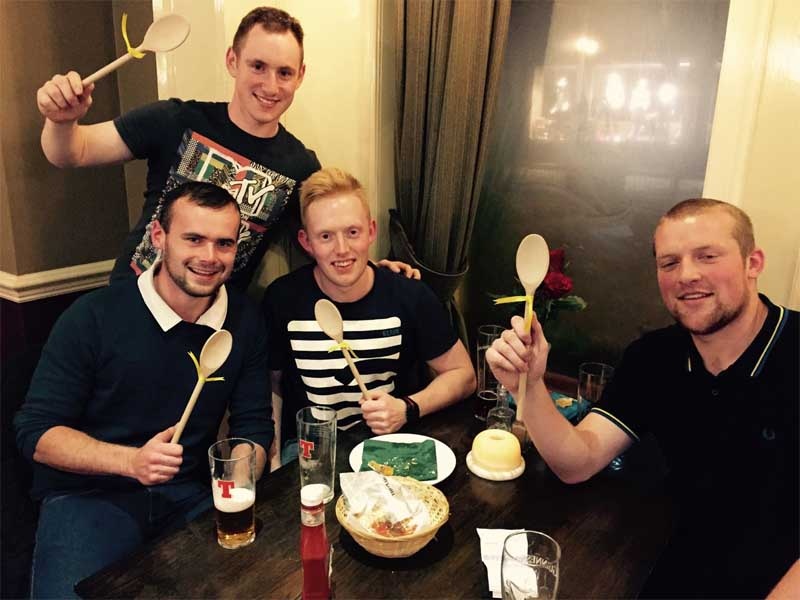 The evening also featured drawing the winning tickets of our Prize Draw. There were many great prizes, but the first prize of 'A Day's Salmon Fishing For 2 (including tuition)' was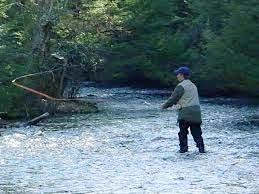 won by Jim Clark. The prize was kindly donated to us by Morris Meikle of Doune, whose website can be found here
We'd like to thank Gordon Halliday and the staff of the Waverley Hotel for generously hosting this event and hope veryone who took part had a great night
Callander Rotary Football Challenge - 30th August 2015
Two teams of local players played each other today for the honour of winning the inaugural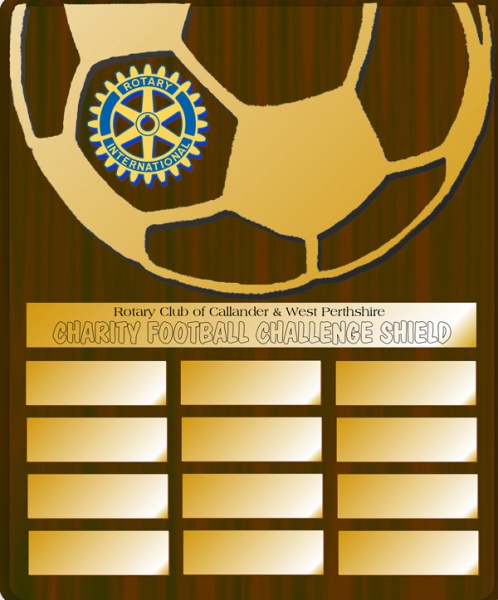 Callander Rotary Football Challenge Shield and they generously donated £20 each to our charity fund in order to do so. In future years, we plan to extend the invitation to m
any more teams, to develop an annual and we're talking to the organisers of the Trossachs Summer Festival to include it in their programme. This year the event was won by the Rotary 11, captained by President Mark's son, Andrew. (By the way President Mark wanted us to point out that he saved a penalty.
Trossachs Summer Festival - Saturday 1st August 2015

The inaugural Trossachs Summer Festival was held in weather that was anything but Summery. Despite that, however, the event was well attended by local families and visitors. Our Rotary Club had an information stall, featuring a display of a Shelter Box and we had a number of people visiting us and asking for more information about Rotary. We also ran a Junior Games for Primary School children consisting of four events - 'Chucking the Chicken', Quoits, an Obstacle Race and Throwing Beanbags in a Bucket. A goodly number of children took part throughout the day and the winner in each Primary School year received an Amazon Voucher as a prize. No sooner had the Junior Games finished than the 'heavens opened'. Nevertheless, the day seemed to be a great success thanks to the organisation of Mclaren Community Leisure Centre.
Charity Golf Day - Thursday 30th July 2015
Sponsored by The Woodside Pharmacy in Doune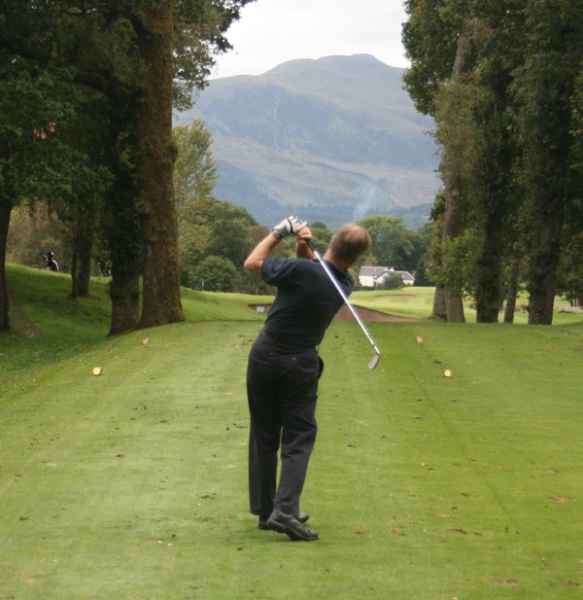 Traditionally the weather remains good for our annual Charity Golf Day and despite the awful weather we've had recently, the rain stayed away and we even saw the occasional ray of sunshine. Fourteen teams entered this year, playing in the 'Shotgun' format - the first time we've adopted this approach. This event has become our biggest fundraiser of the year. and we're pleased to say we raised a total of just over £2,500 to distribute to Alzheimer's Scotland and local charities and causes.

The prize winners were:
Men's Competition - The Wayladers

Ladies Competition - Callander Golf Club Ladies
Nearest the Hole at the 11th - Billy McNab
Nearest the Hole at the 15th -
Nearest the Hole at the 18th - Billy Stevenson
Longest Drive at the 17th (Men) - Chris Halliday
Longest Drive at the 17th (Ladies) -
We'd like to thank Callander Golf Club for providing us with their course and the teams who entered. Thanks also go to the many organisations and individuals who sponsored the holes and/or provided prizes and in particular we'd like to thank our Main Sponsor - The Woodside Pharmacy in Doune.

Click here to view a slide show of the event.
Dancing in the Square - 20th to 24th July 2015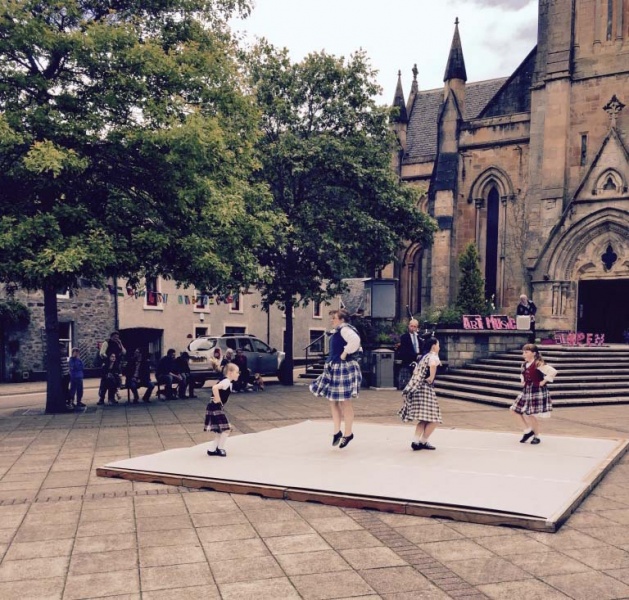 The weather wasn't kind to us this year, but once again Liz Campbell and her school of tremendous dancers did a great job putting on a display of Highland Dancing in Ancaster Square. With it being more like late Autumn rather than Summer, we had to cancel altogether on the Monday and in fact only managed a couple of full days and two part days. Despite that, thanks to the generosity of Callander residents and the few visitors who were about, we managed to raise just over £250 for good causes. We'd like to express our gratitude to Liz and her young charges for once again giving us their time.