Charities and other causes
Due to the generosity of Herne Bay community, we have been able to sponsor, help or support a number of causes, some large, some small; some local, some national or international. Click on details to see who else we have supported.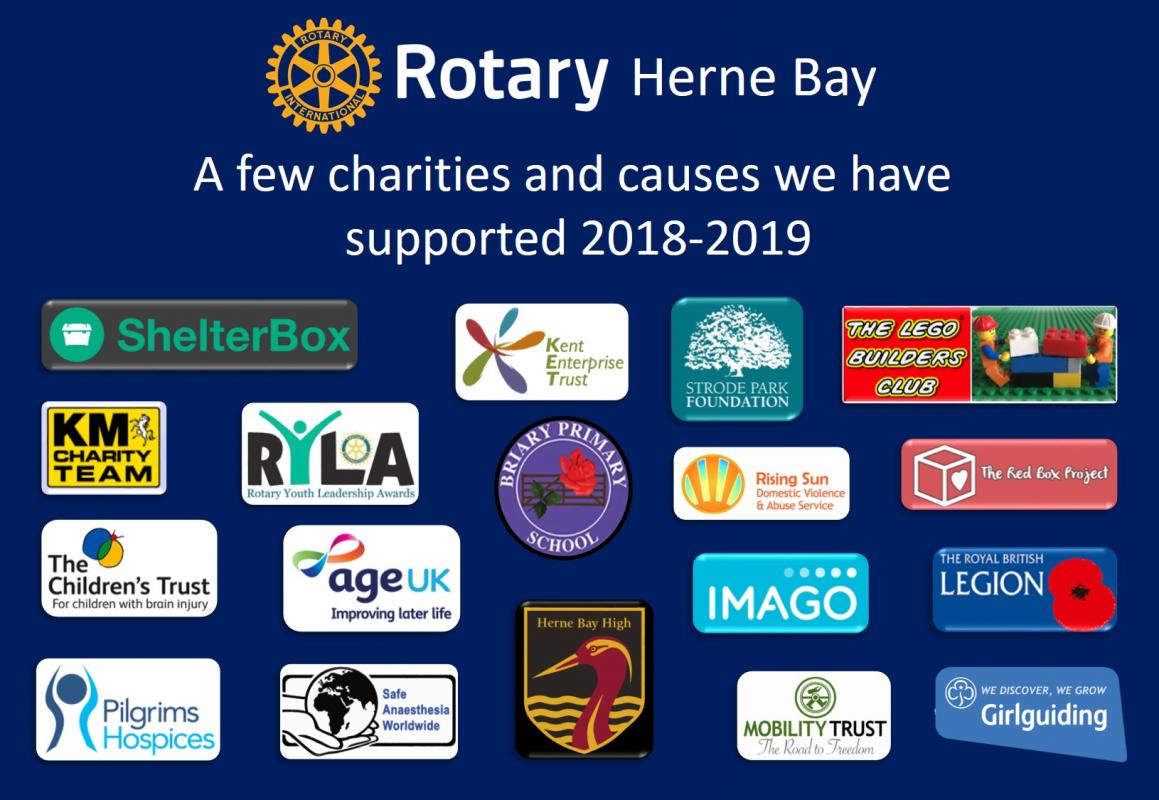 Please see the list below for other charites and causes we have supported in recent years.
2017 - 2018

2016 - 2017

The

Lego Builders Club

SNAAP

SNAAP

St. Vincent de Paul Society

St. Vincent de Paul Society

Shogun Martial Arts

Shogun Martial Arts

Herne Bay High School

Herne Bay High School

Pilgrim's Hospices

Pilgrim's Hospices

1063 Squadron GP Fund

1063 Squadron GP Fund

red Zebra

red Zebra

Dementia Fund

Dementia Fund

ShelterBox

ShelterBox

Headway East Kent

Headway East Kent

2nd Reculver Brownies

2nd Reculver Brownies

Young Carer's Support

Young Carer's Support

H.B. Carnival Association

H.B. Carnival Association

Radio Cabin

Radio Cabin

Strode Park

Strode Park

Rotary Foundation

Rotary Foundation

2015 - 2016

2014 - 2015

SNAAP

Herne Bay High School

Herne Bay High School

ShelterBox

H.B. Carnival Association

Herne Bay in Bloom - Giant Picnic/Prize

Radio Cabin

RYLA

Rotary Foundation

Mercy Ships

Herne Bay in Bloom - Giant Picnic/Prize

Prostate Cancer

RYLA

Girl Guides Jamboree in Japan

Livangeli School, South Africa

Dover Lifeboat

Porchlight

Friends of Kianjai, Kenya

Mercy Ships

Rotary GB&I Nepal Earthquake

Trip to Himalayas

British Heart Foundation