Rotary Community Service Award - 19th April
Each year the Rotary Club of Cirencester recognizes Individuals or Groups whose activities benefit the local Community.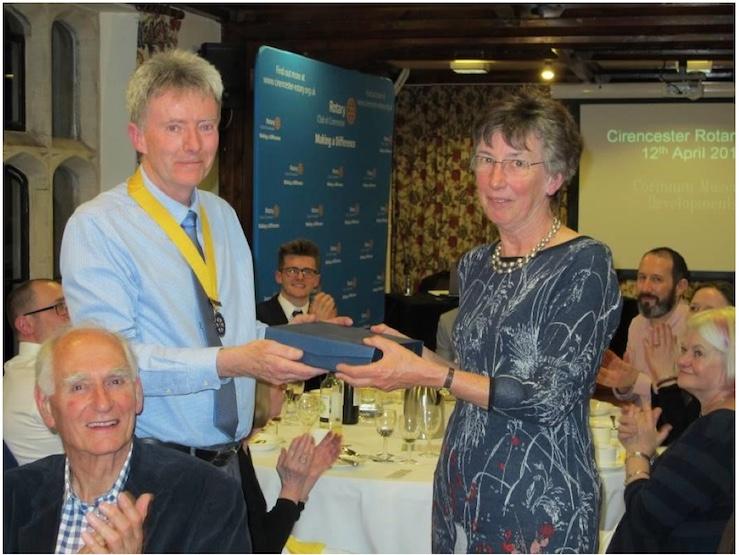 Rotary Community Service Award
Each year, the Rotary Club of Cirencester honours an individual or group who has made a significant contribution to the life of the local community. The award is given in recognition of an exceptional contribution to the community which would not otherwise be recognised.
This year, the Club presented this Community Service Award to Meg Blumson, in recognition of the contribution she has made to the town in many areas but in particular for her leading role as coordinator of the Phoenix Gardeners.
From its formation in 2009, this group of gardeners has enhanced Cirencester by planting and maintaining tubs and other garden spaces within the town. They have worked in partnership with the town council, and with other groups – including Rotary- with the aim of fostering community spirit and making Cirencester a great place to live and work.
Meg also organises an annual plant sale (27 May this year) to raise funds for plants and compost and additionally has organised four major garden festivals comprising up to forty private gardens in the town - which have raised over £25,000 for Cirencester causes. This year, Meg has also found the time and energy to devote to making Abbey 900 celebrations a success – as an active member of the organising committee.
The award was presented by Rotary Vice President Shaun Gibson. He said, "Meg is a driving force in so many areas that help make Cirencester such a great town but, modestly, manages to remain almost entirely in the background. We hope that this award will give her at least some of the recognition she so richly deserves."
In accepting the award, Meg said, "There are so many volunteers who do so much good work in Cirencester and so I feel honoured to have been considered for such a prestigious award."